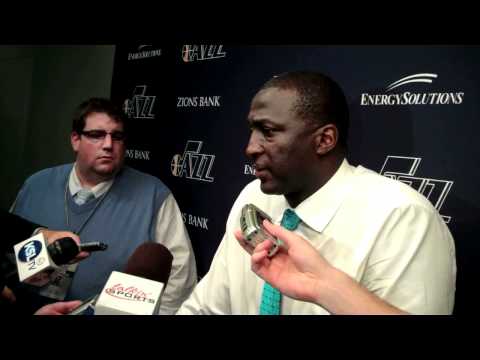 View 30 Items
Brandon Brown, Deseret News


Utah's been good to us. Utah has got a great fan base. It's always good to come back to old stomping grounds.

—Sundiata Gaines
SALT LAKE CITY — Deron Williams wasn't the only former Jazzman playing at EnergySolutions Arena Saturday night. Four of his New Jersey Nets teammates — Mehmet Okur, Kris Humphries, DeShawn Stevenson and Sundiata Gaines — also have NBA roots in Utah.
Okur, who was traded to the Nets on Dec. 22 for a second-round draft pick, acknowledged it was a topic of discussion before Utah's 107-94 win over New Jersey.
"Everybody was excited coming here tonight and playing against former teammates and coaching staff," Okur said while noting that he was able to see some friends earlier in the day. "It's just good to be here."
The 32-year-old, who signed with the Jazz in 2004, received a warm ovation from the crowd. Although he was prepared to be traded because of his age and impending free agency on a team with a lot of big guys, Okur admits it wasn't easy to handle when it happened. He thought Utah might be the final stop of his pro career.
"I was shocked, kind of disappointed," Okur said. "But now I've moved on, and I'm happy where I am."
Prior to tipoff, Nets coach Avery Johnson told reporters that the trip back to Salt Lake City would be beneficial for the former Jazzmen.
"They're pros. This will be a good experience for them coming back to a team that's meant so much to them — an organization where they learned a lot about being professionals and knowing how to play the game the right way," he said before noting that there would likely be some emotions and nervousness early on.
Stevenson acknowledged that "it's something real special to come back here." Four of the five ex-Jazz players on the New Jersey roster began their NBA careers with Utah. Okur, who started with Detroit, was the lone exception.
"Utah's been good to us," Gaines said. "Utah has got a great fan base. It's always good to come back to old stomping grounds."
Humphries, though, noted that a lot of time has passed since his two-year stint with the franchise ended after the 2005-06 season.
"It's been so long for me," he said. "It doesn't really mean a whole lot."
Even so, Humphries noted that the circumstances were somewhat unusual.
"It just rotates around and then you get in a situation where you've got a bunch of guys that played on one team," he said.
While preparing for the game, Utah Jazz coach Ty Corbin put things in perspective.
"They were great guys when they were here," he said. "They're with another team now, and I wish them well."
Utah Jazz assistant coach Jeff Hornacek can relate. He was traded twice in his playing career — going from Phoenix to Philadelphia in 1992 and from Philadelphia to Utah in 1994.
Hornacek recalls beating the Suns on a trip back to Arizona. One of his sons, who was six or seven years old at the time, playfully teased Charles Barkley after the game.
"He goes 'Ha, ha Charles we beat you' or something," Hornacek recalled with a laugh. "Barkley grabbed him by his shoulders and said 'I'm going to grab you. I'm going to chew your head off and spit it out.' "
The joke, Hornacek added, made his son's eyes widen and had everyone cracking up.
On the serious side, though, Hornacek noted that it isn't easy returning to play a former team as a visitor.
"It's always tough, I think, when you go back. You try not to press to do too much," Hornacek said. "Sometimes guys say 'I'm going to try to kill these guys for trading me,' but usually that doesn't turn out very well when you have that mentality. So you just go out there, you play the game. There's obviously a lot of distractions that first time."
Saturday's game marked the first time since Minnesota and Boston met on Jan. 25, 2008 that an NBA team faced an opponent with five of its former players on the court. That contest featured ex-Celtics Antoine Walker, Gerald Green, Sebastian Telfair, Ryan Gomes and current Jazz center Al Jefferson.
Utah has now hosted a cluster of ex-Jazzmen over the past two seasons. Last year, the Jazz squared off against the trio of Carlos Boozer, Kyle Korver and Ronnie Brewer of the Chicago Bulls.
Hornacek acknowledged that was a little bizarre. The five Nets, though, took things to an even different level.
"It's a little strange that there is that many guys going to one spot," Hornacek said.
Email: [email protected]
Twitter: @DirkFacer
Net results
How the five former Jazzmen fared for New Jersey in Saturday's 107-94 loss to Utah at EnergySolutions Arena.
Sundiata Gaines: 12 minutes, 11 points (2-of-2 from 3-point range)
Kris Humphries: 30 minutes, 18 points, 10 rebounds
Mehmet Okur: 29 minutes, 9 points, 7 rebounds
DeShawn Stevenson: 15 minutes, 0 points (1 assist, 1 rebound)
Deron Williams: 33 minutes, 16 points (3-of-15 from the field)Heady goes here
Text