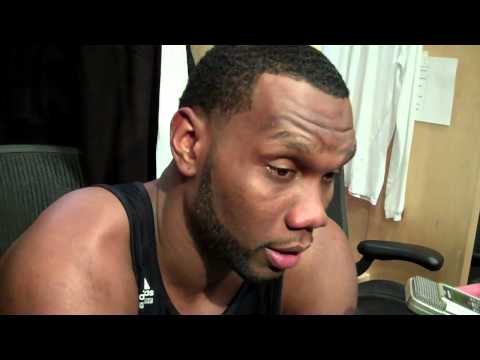 View 33 Items
Brandon Brown

SALT LAKE CITY — Just like "there's no crying in baseball," there's no such thing as a moral victory in sports.
If there was, the Utah Jazz would likely feel a lot better about Wednesday night's gut-wrenching 90-87 overtime loss to the Los Angeles Lakers, a defeat which snapped Utah's five-game winning streak and dealt the Jazz their first homecourt setback of the season.
Keep in mind that the Jazz suffered a 25-point beatdown against the Lakers in their season-opener a couple of weeks ago, so coming within a play or two of knocking off the perennial NBA powerhouse from L.A. had to give Utah's players and coaches some sense of satisfaction, didn't it?
Not necessarily.
"I don't take any moral victories away from any game," said veteran guard Raja Bell, who drew the tough assignment of covering Lakers superstar Kobe Bryant and did a commendable job, even though Bryant still wound up with 40 points.
"There were some good things that happened in the game tonight, there were some real positives, but the ultimate result was an 'L' and you've got to keep it moving. You've got to start another (winning) streak. We have to go back to the drawing board in situations like tonight and figure out what we did wrong and use it as a teaching lesson moving forward.
"There's probably some really clear stuff that happened at the end of that game that should have been done differently, so we'll have to go back to the tape and figure that out," Bell said. "(It's) not a moral victory, but I think there were some good things that happened."
The Jazz, the Lakers and everybody else in EnergySolutions Arena knew that Utah was oh, so close to claiming a victory, especially after the Jazz grabbed a four-point lead early in the overtime on a pair of baskets by forward Paul Millsap, who finished with a season-high 29 points along with nine rebounds and three steals.
But the Jazz couldn't stand prosperity, and Kobe and the Lakers battled back, grabbing the lead on a 3-pointer from the corner by Gasol — his first 3 of the season — and then getting a crucial tip-in by Andrew Bynum after the Jazz had induced Bryant into missing two shots on that possession, but couldn't come up with the rebound.
Bell, who fouled out with 1:16 remaining in OT, liked what he saw from his teammates.
"I think we're headed in the right direction," he said. "Look, to lose to the Lakers, there are worse things. We could have won that game, we probably should have won that game, but when you get right down to it, we were slugging away with them all the way until the last .7 seconds.
"And so again, if you measure us against from where we started this season, I don't think you can take anything but good stuff away from that.
Obviously, a loss is a loss, but I do think we're heading in the right direction.
"We had a great opportunity to win tonight," Bell said. "We just kinda let it slip away."
Jazz coach Tyrone Corbin certainly agreed with Bell's assessment of the game, and he was proud of his team's effort.
"We played a good team tonight, and our guys did a great job of hanging in there," Corbin said. "I was proud of my guys. They did a great job.
"It's a loss, though. The guys are playing hard, and I can't do anything but applaud their effort. We're growing and getting better. We had opportunities to win this game tonight and couldn't get over the hump. But the effort's been great, man, and you can deal with the losing if you're playing as hard as we played tonight. We just didn't get a break at the end.
"We've improved, and I believe in our improvement," the Jazz coach said. "I think the guys did a tremendous job of fighting. The effort was great and the focus was there and we were right in the ballgame. We just didn't finish it, and that's the disheartening thing. But I'm really happy about the way our guys are playing."
On second thought, maybe there is such a thing as a moral victory after all.
Email: [email protected]