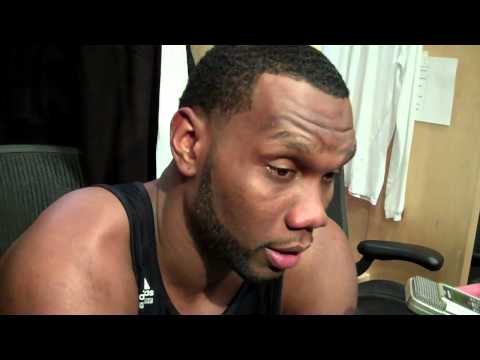 View 33 Items
Brandon Brown

SALT LAKE CITY — There's no doubt the Utah Jazz are off to a somewhat surprising start, but they've been down this road before.
And, hey, it wasn't very long ago.
After all, Utah started the 2010-11 season by winning 24 of its first 35 games. But just when it looked like the Jazz were headed for another in a long line of playoff appearances, the wheels completely came off.
Utah lost 32 of its last 47 games and wound up 39-43 overall — just its second losing season in the last 28 years and only the fourth time they've missed postseason play during that same span.
Things got so bad that venerable coach Jerry Sloan abruptly resigned last February, taking his longtime assistant and sidekick Phil Johnson with him. Then two weeks later, the Jazz traded away their best player, All-Star point guard Deron Williams, to the New Jersey Nets.
So veteran NBA center Al Jefferson, Utah's leading scorer and rebounder this season, isn't about to start pounding his chest over the team's strong start.
Sure, the Jazz took the fourth-best record in the Western Conference (6-3) into Wednesday night's 90-87 overtime loss to the Los Angeles Lakers, and Jefferson is pleased with that.
But Big Al realizes it's much too soon to start feeling too good about things, and he remembers all too well the chuckholes that sidetracked and stalled the team last season.
"Yes," he said when asked if this is the best the Jazz have played since last January. "But at the same time, we were playing well at this same time last year and we let it go. So that's why I'm not satisfied with it. We have to play every game like we're last in the West, and that's what we're going to continue to do until it's all said and done."
The Jazz, Jefferson insisted, need to maintain that attitude, stay hungry, want it.
"Last year we had a little success and then with everything that happened ... so this year we're going to do everything in our power to keep that from happening again," he said. "We don't want to be a team that's known to just play well the first half of the season.
"We want to be a team that stays consistent and be a playoff team. And right now we are, but we've got a long way to go, and we've got to keep it up."
Jefferson pointed out the strong play of Utah's bench, which is getting great contributions from Derrick Favors, Josh Howard, Earl Watson and rookies Alec Burks and Enes Kanter.
But he knows the ballclub can't get too full of itself.
"I like the way everybody's playing," Jefferson said. "The bench is playing well — Derrick, Big Turkey (Kanter) and Earl gives us a wonderful lift. Josh Howard is going back to the Josh I knew and loved in Dallas.
"I think we've just got to stay hungry, and coach talks to us and chews us out sometimes like we done lost six in a row. And that's what we need. This is a young team, and that's what we need."
ALL-TEAM PLAYER: Throw out his games against the Los Angeles Lakers — especially his season-opening dud — and Jefferson has played like an All-Star this season.
Coming into Wednesday's game, Big Al had four games in the 20-point range and one 30-point doozey in Tuesday's win over Cleveland.
Jefferson only scored 11 in the Jazz's OT loss Wednesday, but he still averages more than 19 points and nine rebounds.
It's unlikely Jefferson will be voted in ahead of the Lakers' Andrew Bynum. But he very well could earn a reserve spot in the midseason classic.
Jefferson maintains he's more worried about getting Utah to play in late April, May, maybe June.
"All I'm worried about is just continue to do what we're doing as a team and winning games. This is not (about) personal goals with me," Jefferson said. "I'm just doing my job, trying to win games, because it's not about Al Jefferson making the All-Star Game it's about the Utah Jazz making the playoffs."
RIGHTHAND MAN: Jefferson admits his post move can be a bit predictable, and opponents often defend his left shoulder to try to take away his signature move.
But his quote about the topic entered the hilariously unpredictable territory at Wednesday's shootaround.
"I think everybody play that shoulder because everybody know what I'm going to do," Big Al said. "Everybody know I'm going over that left shoulder."
That's when he said the unexpected.
"My left hand might as well be cut off," he joked. "If I didn't need it for rebounding I wouldn't even have it all."
MELLOW THE YELLOW: Jazz veteran Earl Watson played his college ball at UCLA and lives in Los Angeles during the offseason. His viewpoint on seeing yellow in the stands — especially in his own team's arena — has changed drastically over the years.
In other words, he doesn't like seeing it on EnergySolutions Arena spectators next to the Jazz fans he loves so much.
"Playing at UCLA, we always had fans (on the road) like that. I loved it," Watson said. He added with a smile, "Now that I'm on the other side, it's like, 'Who sold their tickets? C'mon, I thought we had faithful fans.' They (Lakers) always have a nice fanbase when they travel. It's part of their game. It's disappointing."
Email: [email protected] Twitter: DJJazzyJody