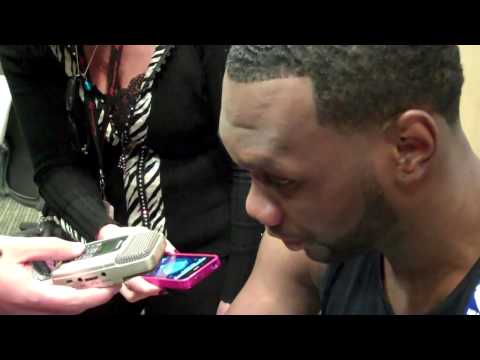 View 41 Items
Brandon Brown

When Al has it going like that, I don't think there is anybody in this league that can stop him.

—Cavaliers coach Byron Scott
SALT LAKE CITY — To say that Al Jefferson had a nice night against the Cleveland Cavaliers would be like saying Jerry Sloan hates to lose.
And to say that the Utah Jazz love playing at home would be like saying John Stockton (and the Jazz Dancers) sure know how to rock those short-shorts.
Of course they do.
Jefferson, Utah's 6-foot-10, 282-pound veteran center, put together a splendid all-around performance — game-highs of 30 points and 12 rebounds, along with three assists and a couple of blocked shots — and the Jazz continued their impressive early season showing with a 113-105 victory over the Cavs on Tuesday night at EnergySolutions Arena.
Jefferson scored 22 of his total in the second half, including 14 points in a superb third-period effort as the Jazz (6-3) won their fifth consecutive game and raised their home-court record to a spotless 5-0.
He wound up shooting a slick 13-of-17 from the floor.
"When Al has it going like that, I don't think there is anybody in this league that can stop him," said Cavs coach Byron Scott.
Big Al is averaging a team-leading 19.6 points and 8.9 rebounds per game, and at home, where the Jazz continue to feed off their frenzied crowd like that hungry shark did in "Jaws," Jefferson's numbers are even better — 24.5 and 9.3 per game.
Jazz head coach Tyrone Corbin attributed Jefferson's strong start this season to the work Big Al put in during the summer while NBA players were waiting for the owners' lengthy lockout to end.
"I go back to his work in the summer," Corbin said. "I mean, he really committed himself to getting better and in better shape. He took the whole summer to really get his body in shape, and it was a huge sacrifice on his part.
"I understand that, his sense of urgency and the importance of him getting better for us to get better. And I can't say enough about him, how pleased I am with the fact that he decided to get better with his body first and just came back with a tremendous attitude and ready to go to work."
In Tuesday night's game, Utah's bigs came up awfully big against Cleveland.
Along with Jefferson's huge night, power forward Paul Millsap made his first nine shots from the floor on his way to 19 points, and second-year forward/center Derrick Favors contributed 14 points and five rebounds. He and Millsap were both saddled with foul trouble, however, and eventually fouled out.
"Paul was rolling and got in foul trouble and they took him out of the game for that," Jefferson said. "He was on a roll to do something very special tonight, but he got in foul trouble and that's when I had to step it up and pick it up on the offensive end.
"We're playing good right now but we've got to keep it going and, like I keep saying, we can't be satisfied with what we're doing. We've just got to realize it's early and we've got a long way to go. We've just got to keep it going.
"This is the best I've ever felt," Jefferson said, acknowledging his offseason training program that Corbin mentioned prominently. "I like to have a little weight on me because when you're playing against a guy like (the L.A. Lakers') Andrew Bynum, you've got to be able to be physical with him. But at the same time, I've got a little weight on me but I'm quick enough, I'm jumping higher and moving faster and I just feel real good.
I've lost eight pounds since training camp and I'm feeling the best I've ever felt."
And, these days, perhaps playing the best he's ever played, too — especially on his home court at ESA.
Email: [email protected]