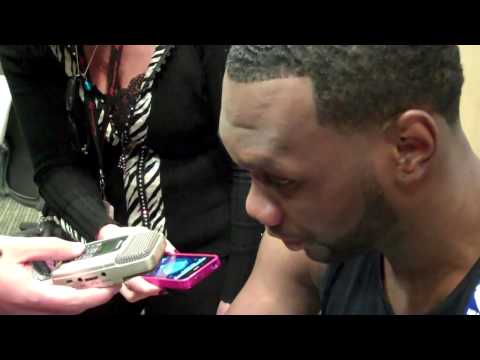 View 42 Items
Brandon Brown

SALT LAKE CITY — The Utah Jazz have one new fan.
Jazz shooting guard Raja Bell's wife, Cindi, delivered the couple's third baby boy Tuesday morning.
"It went great," the proud papa said shortly after arriving to EnergySolutions Arena an hour before tipoff. "Everybody's good."
The delivery came at a perfect time, too.
Not only are the Jazz in Utah on a homestand, but the stork arrived between the morning shootaround and their game against Cleveland.
After making the quick trek from LDS Hospital to his office, Bell played and started in the Jazz's 113-105 win over the Cavaliers.
Bell wasn't concerned for leaving his wife and newborn, seeing as he was "only gone for a couple hours" and returned promptly after the game.
"She's a trooper," Bell said of Cindi.
As soon as the Jazz's morning shootaround ended, Bell rushed into the locker room to grab his clothes and hurried to the hospital to be there just in time for the delivery. His wife's original due date was next week.
Cindi called Bell before the team's 10 a.m. prep session at ESA, and he thought he was fine on time.
"I went through shootaround, and by the time I got done she had changed her tone," Bell said. "After shootaround, she was like, 'COME!'"
Bell rushed to the hospital in the Salt Lake Avenues, threw on hospital scrubs—right on time for a smooth delivery minutes later at 11:18 a.m.
The Bells' new son has two older brothers, Dia and Tai.
The smiling Bell said mom and dad haven't picked out a name yet. They have some ideas, though.
Added Bell: "We'll spend a little time with him by ourselves until we figure out exactly who he is."
The newest Bell's stat line: 4 pounds, 12 ounces.
DEEP FREEZE: Jazz coach Tyrone Corbin isn't too concerned that the Jazz ranked 28th in 3-point shooting (26.5 percent) coming into Tuesday's game.
"You live by the 3-pointer, you die by it," Corbin said. "I don't want to fall into a trap of searching for more 3-point shots. We just want to make sure we take the right ones, (and) the right guys are taking them. We'll make them in the long run."
The Jazz won their fifth straight despite going 3-for-10 from long range Tuesday. The victory was all but clinched by a deep shot by C.J. Miles with 36.0 seconds left.
"I think they're important to every offense. They allow you to spread the court," Jazz small forward Gordon Hayward said. "When you start knocking down some outside shots, they can't double-team our post guys, so it lets them have some more room to operate. It opens everything up and makes the defense stay honest."
STARTERS STAYING: The birth of a child didn't affect the Jazz's starting lineup Tuesday, and Corbin has no intention of changing his opening group anytime soon. Utah improved to 5-1 with the first five of PG Devin Harris, SG Raja Bell, SF Gordon Hayward, PF Paul Millsap and C Al Jefferson.
"We're moving well. We're growing. We're getting better every night we step on the floor," Corbin said. "We're getting used to each other. It's working right now, so we'll continue to work and continue to explore things, but we're doing OK right now."
SWAT LAKE CITY: Player positioning is the top reason why the Jazz are second in the league in blocked shots with 7.5 stuffs per outing. They blocked seven Cavalier shots.
"We want to continue to be aggressive, make sure we're not taking too many chances," Corbin said. "Just be in the position to be able to make the play when it presents itself."