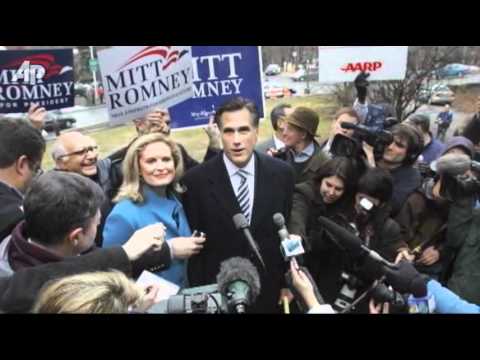 View 40 Items
YouTube

Mitt Romney's Republican challengers made a last-ditch effort to take down their party's front-runner in a GOP primary debate Sunday morning, assailing Romney's conservative credentials and his self-description as a political outsider.
During a 14-hour window Saturday night and Sunday morning, the six remaining Republican presidential candidates engaged in two televised debates in New Hampshire, where the first-in-the-nation primaries will take place Tuesday.
But despite the close time proximity and identical lineup of participants, the two debates veered in opposite directions: after skating through Saturday completely unscathed, front-runner Mitt Romney had to endure a broad array of vigorous attacks from his foes on Sunday.
Romney in the crosshairs
"Mitt Romney's Republican challengers made a last-ditch effort to take down their party's front-runner in a GOP primary debate Sunday morning, assailing Romney's conservative credentials and his self-description as a political outsider," Alexander Burns wrote for Politico.
"One by one, the rivals lined up against Mr. Romney, the established front-runner, engaging him in some of the most pointed exchanges of the campaign so far," Jim Rutenberg wrote for the New York Times.
Rick Santorum criticized Romney in the early going Sunday for not running for reelection as governor of Massachusetts in 2006. Romney defended that decision by saying, "I was trying to help get the state into the best shape as I possibly could, left the world of politics, went back into business."
Shortly thereafter, Newt Gingrich unleashed what Molly Ball at The Atlantic called "the best line of the debate."
"But can we drop a little bit of the pious baloney?" Gingrich asked rhetorically. "The fact is … you had a very bad re- election rating, you dropped out of office, you had been out of state for something like 200 days preparing to run for president. You didn't have this interlude of citizenship while you thought about what you do. You were running for president while you were governor."
Despite the unprecedented spate of debate attacks Romney endured, Politico concluded, "If Romney was pushed back on his heels once or twice, there was no sign in the debate of the kind of crushing, self-destructive moment that's likely to prompt a major shift of momentum in the race."
After the debate ended, Romney's senior adviser Eric Fehrnstrom invoked a hit song from the 80s to sum up what his candidate had been up against Sunday.
"I think (Romney) did great," Fehrnstrom told the Washington Post. "His opponents came into this debate knowing it was their last chance to attack him and knock him off his game, and they failed. It reminds me a little bit of that old Pat Benatar song, 'Hit Me With Your Best Shot,' except Mitt Romney absorbed their best shots, and I think came out of the process looking stronger."
Huntsman breaks out
Jon Huntsman Jr. likely gave his most spirited and aggressive performance of the debate season Sunday. The Washington Post noted, "Huntsman is getting more airtime during this morning's debate than he probably has in every other previous debate combined."
The Deseret News' Lisa Riley Roche vividly recorded one exchange in particular when the former Utah governor tangled with Romney: "Huntsman said while Romney was raising money for Republican candidates, he was serving his country in Beijing and his sons joined the U.S. Navy. Romney shot back, saying that Republicans serve their country by standing with those who support conservative principles, not by calling Obama 'a remarkable leader' as Huntsman did. Huntsman, though, drew applause by telling the debate moderator, 'Meet the Press' host David Gregory, 'This nation is divided, David, because of attitudes like that.'"
Modicum of redemption for Perry
Texas Gov. Rick Perry drew prolonged laughter and applause from both the audience and his fellow debaters by poking fun at himself for his now-infamous debate flub on Nov. 9 when he couldn't remember which three government agencies he would abolish as president.
"What are the three areas that (I) would make some reductions that people would feel some pain?" Perry said Sunday, repeating an earlier question from Gregory. "And I will tell you, it would be those bureaucrats at the Departments of Commerce and Energy and Education that we're going to do away with." He capped the comment with a wink and a nod.
But Perry's debate performance was notable for more than just its theatrics — he made repeated references to the tea party and, near the end, called Pres. Barack Obama a "socialist."
"It's probably too late for Perry, but a performance like this makes his last stand in South Carolina a more plausible effort," Ball noted for The Atlantic.
Saturday summaries
Seemingly without exception, political pundits concurred that the Saturday debate was far less colorful and lively than its Sunday successor — thanks in large part to the fact that nobody really went after Romney on Saturday night.
The Washington Post opined, "The former Massachusetts governor glided to a victory in Saturday's debate as none of his rivals seemed willing to challenge him in any sustained way. (Why not? We have no idea.)"
Appearing Sunday morning on the ABC News show "This Week," former Arkansas Gov. and 2008 Republican presidential hopeful Mike Huckabee said, "I think everybody thought that (Saturday) was going to be a pile-up and that Mitt Romney's car would be right in middle of it, but it appeared that everybody was a little hesitant, if not timid, in going after him directly. … You know, I don't explain it. It's inexplicable to me."
Huntsman's Mandarin moment
The most memorable exchange of Saturday's debate likely stemmed from Huntsman trying to throw Romney off-guard by suddenly telling a joke in Mandarin and then immediately offering his own English translation.
"During Saturday's debate (Huntsman) chose to go Chinese by joking in Mandarin to make a point that Mitt Romney didn't, as they say in Iowa, 'know the territory' when speaking on China policy," Chris Higbee wrote for the Deseret News.
Latest N.H. polling
In its daily polling of New Hampshire voters likely to participate in Tuesday's primary, Suffolk University announced Sunday that Romney is slipping a bit in the Granite State as Huntsman surges into third place.
"Romney dropped 4 percentage points overnight to 35 percent. The former Massachusetts governor still holds a 15-point lead, but his margin has declined by 8 percentage points since last Tuesday. … Romney is followed by Paul (20 percent), Huntsman (11 percent), Newt Gingrich (9 percent) and Santorum, who dropped another point overnight to 8 percent."
ABC News and New Hampshire television station WMUR sponsored Saturday's debate. Facebook, NBC News and the New Hampshire Union Leader newspaper organized the debate on Sunday.
EMAIL: [email protected]