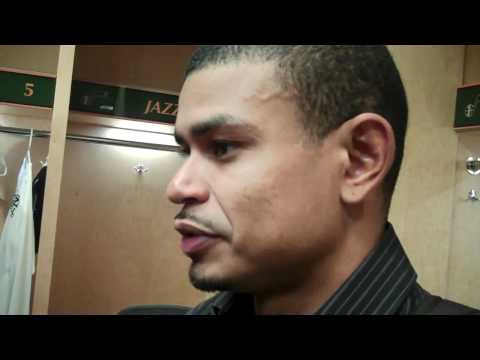 View 30 Items
Brandon Brown, Deseret News

SALT LAKE CITY — Like the song says, let's hear it for the boys.
Yes, those boys on the Utah Jazz bench.
OK, so they're actually grownup men — and man, some of them have really grown up — who happen to love playing a boys game, basketball.
And boy, they're playing it well these days.
Utah's Bench Brigade, fueled by a superb performance from veteran point guard Earl Watson, outscored the Memphis bench by a whopping 41-11 margin in Friday night's game against the Grizzlies. It's no wonder, then, that the Jazz won 94-85 at EnergySolutions Arena — Utah's fourth consecutive victory on its home court.
Watson, the savvy sparkplug who always seems to give his teammates a huge lift, had a season-high 11 points along with five assists, four rebounds and a steal in a superb all-around performance.
"Earl is a pro, man, I mean he's that way every day," said Jazz coach Tyrone Corbin. "He comes out and he's gonna compete hard, he's going to pull his teammates with him, he's going to encourage guys and he's going to do it by showing the way. He's going to play hard and demand that the guys come along with him. He's done a great job for us."
Watson, a former UCLA star who's in his 11th NBA season, re-signed with the Jazz in early December just before training camp got under way.
"I came back here because of the young guys," said Watson, who at the ripe old age of 32 is one of this young team's elder statesman. "I'm real excited about the young guys — (Derrick) Favors, Gordon (Hayward) and Jeremy (Evans) — and the team and the chemistry, all the players on this team, even the young guys who think they're old, they're still younger than me.
"I came back because of the chemistry and the coaching staff, management, and Kevin O'Connor has been a big supporter of me on and off the court, which says to me loyalty above anything else.
"I'm way more comfortable," Watson said of his second season in Utah. "I think the main thing is things have settled and ... everything is going in the right direction. ... We haven't even scratched the surface. Everyone's positive and the energy of this team is amazing, and I feed off their energy."
Watson has done a highly commendable job of backing up starting point guard Devin Harris.
"I think we complement each other and at any given time either one of us can change the game, and that puts a lot of pressure on a lot of teams," Watson said. "That means the other point guard has to play a majority of the game, a majority of the minutes, and we stay fresh and we come in and just continue to attack and positive things happen.
"We feel like our bench can start. So we feel like no matter what we have five guys who can start in this league and five that can change the game and be dominant, and we really believe that. And sometimes believing is bigger than what's reality."
Watson wasn't the only reserve who played a vital role in Utah's victory.
Veteran swingman Josh Howard had 13 points, three rebounds and a couple of steals; Favors, their promising young big man, contributed seven points, three boards, two steals and a couple of blocked shots, and rookie guard Alec Burks added seven points, three rebounds and a steal to the Bench Brigade's big night.
"I'm glad that Coach Ty is finding confidence in me," Burks said. "I'll take it. It seems like Coach Ty is gaining more confidence in me every game. I'm just trying to pay him back by me playing good, playing good defense."