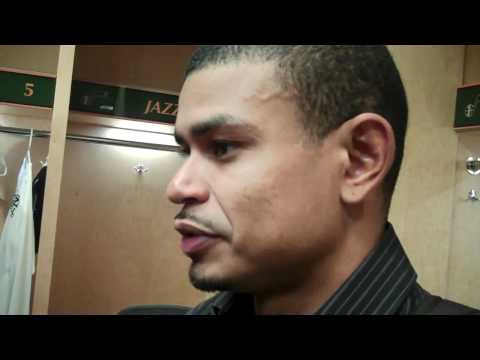 View 3 Items
Brandon Brown, Deseret News

SALT LAKE CITY — The Utah Jazz rookies received a little present after the team's exciting win over the Memphis Grizzlies on Friday night.
But it wasn't because of their fine contributions in the Jazz's 94-85 victory.
Nope. Alec Burks and Enes Kanter received sparkling, bright pink backpacks as part of their rookie ritual.
Eight-year veteran Devin Harris smiled as he approached Burks — with media watching and some teammates laughing — with a pair of cute bags that might make 10-year-old girls envious.
Harris, who bought the backpacks on his own dime, had this simple advice to the rookies: "Carry 'em everywhere."
On the plane, to arenas, to practice, everywhere.
"I just remember my days as a rookie," Harris said, smiling, "so it's always good to give a little payback."
The 20-year-old Burks was a good sport about it.
"I thought they'd forgot," he said, "but he remembered. I'll rock it."
Kanter left the locker room before the present could be delivered, but Burks was going to hand the 19-year-old Turkish player his pink bag in time for the team's flight to Oakland for tonight's game against the Warriors.
The two happiest guys in the locker room during this scene might've been Gordon Hayward and Jeremy Evans, second-year players who no longer have to sport their old pink backpacks.
As Hayward left the locker room, he made a point to tell Burks: "See ya, Rook."
Veteran Earl Watson also teasingly told Burks to get Kanter's pink pack off of his chair.