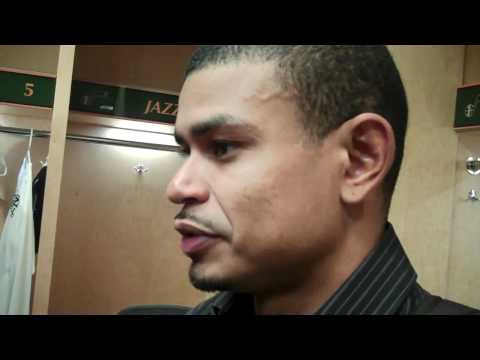 View 30 Items
Brandon Brown, Deseret News

SALT LAKE CITY — After opening the season with a couple of awfully ugly losses on the road, the Utah Jazz seem to have figured things out in the last week, winning four of their last five games.
Of course, all four of those victories came on their home court. Still, after double-digit defeats at Los Angeles and Denver, followed by another one at San Antonio, cast a great deal of doubt on Utah's chances for success this season, the Jazz have more recently shown promising glimpses of the type of team they'll be in the future.
And at times, it looks like it could be a darned good one.
"I've seen tangible improvement," Utah head coach Tyrone Corbin said Friday. "Everybody in this league is capable of winning games on any floor, and we've done a good job on our home floor. I don't care who we play, you want to win the game, and we've taken care of that part of it by winning the game against whoever the schedule presents to us.
"I think the key thing for us is that we're playing better, we're reading each other a lot better and we're playing harder on the defensive end of the floor and playing more consistent on both ends of the floor."
Corbin and Co. got a two-day break between games in this compacted 66-game NBA regular-season schedule, and the Jazz (4-3) got in a good day of practice on Thursday.
"I want to make sure as we go forward here, we've got to tighten up," Corbin said. "We've got to get a lot sharper in executing on the offensive end, a lot crisper and talking to each other on the defensive end of the floor, and make our movements a lot more instinctive and read where you're not thinking as much. And we've got to keep getting repetition so we can get better at doing that."
Second-year forward Gordon Hayward pointed at Utah's improved defense as the biggest factor in helping the team turn things around. But he also cautioned that, although the Jazz seem to have shaken off their slow start to the season, it's still much too soon to make too much of their recent resurgence.
"Defensively, we definitely have picked that up for sure," Hayward said. "We still have a long ways to go and a lot of work to do, but it's improved for sure.
"Winning puts a smile on everybody's face for sure, but I think we know, though, that it's a long season and we can't get too high on the highs or too low on the lows."
Asked about the reason for Utah's recent winning ways, point guard Devin Harris deadpanned: "Besides we're playing at home?" which got a good laugh from the assembled media. Then he got more serious.
"I think we just gained experienced," Harris said. "We learned to play together a lot more, we're moving the ball, we're figuring out who we are and finding an identity as a team. And I think defensively we're really starting to figure some things out."
SHOOTING STARS: After struggling severely with their field goal shooting early in the season, the Jazz have definitely found their range from the floor over the last few games.
Five different players weighed in on why they think the team has been shooting better in recent outings.
"We're getting a lot better looks, we're moving the ball and getting guys open shots," Harris said, "and I think we're having success at getting the ball inside."
Second-year forward/center Derrick Favors kept it very simple. "Everybody's sharing the ball," he said.
Starting center Al Jefferson said it was a matter of the team learning to play together.
"I think everybody's just getting in a better groove, and the new guys are understanding the plays," he said. " ... So the longer we go, the better we'll get."
Veteran swingman Josh Howard cited three reasons for Utah's improved marksmanship.
"Getting closer to the paint, getting closer to the basket and executing the offense a whole lot better — those three things have really gotten better," Howard said. "... Guys are still learning the offensive plays and offensive rotations, so as long as we keep working on it, it'll keep getting better each game."
And Hayward said he thinks Utah's improved performance on the defensive end is paying off on offense as well.
"If you play good defense, it kind of gets you in a rhythm offensively," he said. "You're able to run a little bit more and get some easy buckets.
Sometimes whenever you get a couple of layups or free throws to get you going offensively, you're able to knock down more shots."
ROTATION MOTIVATION: Corbin has admittedly juggled his substitution pattern depending on his "feel" for how the game is going, how his players are performing on a given night and what matchups he likes or dislikes on the court.
It's far from an exact science, and though the Jazz coach says he'll likely get into more of a set rotation with players' minutes as the season progresses, Hayward said Corbin's current way of doing things helps keep everybody on their toes.
"You've just got to be ready whenever he calls your name," Hayward said.
"You've got to be ready to go in there and make plays and do whatever you can to help the team win. I don't think you can worry about that (rotation)."
ON THE ROAD AGAIN: The Jazz have yet to win a road game thus far this season, going 0-3 away from home, with all three of those losses coming by double digits. They'll get another chance for their first road victory tonight at Golden State.
Jefferson was asked what he and his teammates need to do to become a better road team.
"We've got to go with the same mindset that we do at home," he said. "Tomorrow night will be a good test for us. Golden State plays well at home, so we've just got to go with that same mindset as we do at home."
email: [email protected]