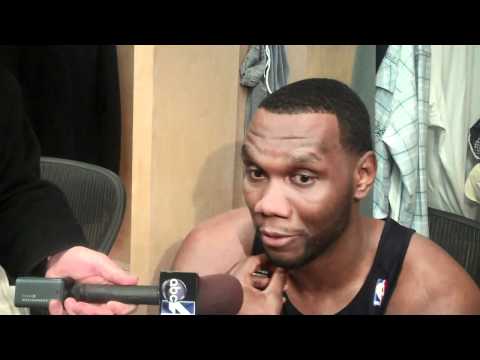 View 30 Items
Brandon Brown, Deseret News

SALT LAKE CITY — Just before Tuesday's tipoff, the Milwaukee Bucks announced that they'd play without former Ute standout Andrew Bogut, starter Mike Dunleavy and shooter Beno Udrih.
And the Utah Jazz finished with two key players, Devin Harris (calf) and Josh Howard (quad), in the training room with strained muscles and a roster full of worn-out athletes who'd played six games in eight nights.
Throw in the fact this contest was the tail end of a back-to-back for both teams and, well, even a mother might've struggled to appreciate its unique ugliness.
One coach didn't mind its appearance.
Neither did Tyrone Corbin's Jazz players, who evened their record at 3-3 with a gritty-and-beauty-challenged 85-73 win over the Bucks at EnergySolutions Arena.
"It wasn't a pretty game on either end — a lot of turnovers, a lot of missed shots," Harris said. "It was a kind of grind-out game."
Utah was as sloppy as you might expect for a team playing its sixth game in eight nights. The Jazz had 24 turnovers, didn't score more than 23 points in a quarter and allowed 23 offensive rebounds.
Thanks to their gutsy defense, they came out looking like Homecoming Kings compared to the depleted Bucks, who only shot 30.5 percent against a Jazz squad that was last in the NBA in defensive field-goal percentage.
"Defensively, we really stepped up tonight," Jazz small forward Gordon Hayward said. "And we're going to have to keep doing that."
Getting repeat Mark Eatonesque performances would be nice, too.
Twelve of Milwaukee's 66 misses (29-95 shooting) were sent the other direction by the swat-happy home team.
"Derrick Favors was the one who set the tone," Jazz center Al Jefferson said.
Favors had a career-high five blocks, all in the first half when Utah held the Bucks to 34 points.
"That's what I do," Favors said. "Play defense, block shots, rebound — just bring some energy out, just try to get this win."
Jefferson and Paul Millsap each blocked a pair of Bucks' shots. That interior defense sent Milwaukee shooters scurrying outside, where they missed 19 of 21 3-pointers.
"They did a great job of converging on the inside and making them make outside shots," Corbin said. "That's the thing we want to continue to build on, make sure we protect the basket and paint."
Offensively, the Jazz were boosted by Big Al's season-high 26 points. He also had 10 rebounds.
Millsap added 13 points and 12 boards, Hayward chipped in 12 points and Earl Watson dished out eight assists, filling in nicely for Harris after the starter left in the third quarter. Favors finished with a line of six points, seven rebounds and five blocks.
"Guys fought it out," Corbin said. "Everybody's a little beat up, and we used everybody on the roster."
While many guys appeared to be running around in cement basketball shoes because of the brutal schedule, Alec Burks ran wild and free in his best all-around professional game.
The rookie was assertive and active, scoring nine points, including a 7-for-10 night from the free-throw line. He also dished out six assists.
"I'm 20. I've still got the 20 legs. I'm going to use them to my advantage," Burks said. "It was great. I'm just proving what I can do if I get the time and I'm being aggressive."
Center Drew Gooden filled in for Bogut, who missed for an undisclosed personal matter. He had 24 points and 12 rebounds. But the rest of the team, which lost in Denver on Monday, only shot 22.7 percent. Brandon Jennings was particularly off, going 4-for-19 for only eight points.
Their defense has been spotty at times this season, but the Jazz deserve credit for finding enough energy to bother the 2-3 Bucks.
"Everybody was kinda tired, but we just sorta fought through it," Favors said. "We was having each other's backs, playing defense, rotating, just playing team defense."
That led to a second win in a row after suffering three blowouts on the road in five nights last week. Good timing, too, considering the Jazz actually have two consecutive days off before hosting Memphis on Friday.
"It's showing growth. It's showing that if we stick to the things that we talked about doing and we stay together as a group of guys, we have a chance to compete," Corbin said. "And that's all we can ask for. … If we do the right things, we can play with anybody."
GAME NOTES: Harris and Howard are considered day-to-day. … Attendance was only 17,756 — more than 2,000 below a sellout at ESA. … Harris tied his season-high with six assists before leaving in the third quarter.… The Bucks' Dunleavy missed with groin pain, while Udrih was out with a shoulder sprain.
Email: [email protected]
twitter: DJJazzyJody