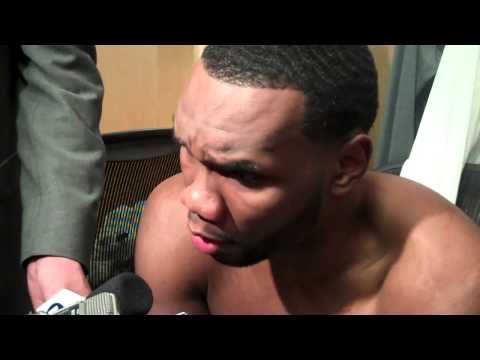 View 16 Items
Brandon Brown, Deseret News

SALT LAKE CITY — It wasn't a full-out Tebowing moment.
But a relieved Devin Harris took a second to point up — in an even higher direction than the Stockton and Malone jerseys in the EnergySolutions Arena rafters — after his go-ahead 3-pointer late in the fourth quarter took a blessed bounce in the Utah Jazz's 94-90 win over the New Orleans Hornets.
Different motion than the Broncos' QB makes.
Same intent from a thankful heart, which seemingly had a prayer answered when the long shot hopped off the rim and dropped back in for a not-to-be-relinquished 89-86 Jazz lead.
"It felt short, but I've got to give the Man upstairs credit for that one," Harris said. "It kinda trickled in for me, and we needed that one in a big way."
Jazz fans — and the heavens — know that to be the case considering how Utah (2-3) was coming off its third blowout loss this young season.
In a game that featured contributions from a wide variety of Jazz players, Harris' calm play in the end sealed a second home win for this up-and-down Utah team.
A minute after his fortunate trey, Harris squeezed a pass into Paul Millsap for a fast-break dunk. He then added three free throws in the final 14.8 seconds, helping close out the new-look Hornets.
Harris finished with 19 points — nicely pairing up with Al Jefferson's 22-point effort — and hit 3 of 6 from long range while dishing out five assists.
It was another testament that when Harris clicks, so do the Jazz — and vice-versa.
"He's starting to see it and the guys are starting to read off of him, " Jazz coach Tyrone Corbin said. "He is understanding the time of the game and the sense of urgency when we want to have the ball in his hands and to be able to make plays for us. He is getting better."
By no coincidence, this was the second strong showing of the season for Harris and the Jazz's second win. Both happened at home, too.
Harris' outside opportunities opened up because the team established an inside game by feeding Jefferson time and time again. The Jazz especially went that way in the third quarter when Big Al dumped in 12 points to keep Utah within striking distance of the Hornets, who took back the lead going into the fourth.
That final quarter was when Utah's perimeter players — Harris along with reserves Josh Howard and C.J. Miles — took the baton and finished strong.
In the fourth, Howard had eight of his bench-best 13 points in the fourth, while Miles scored five of his 11, including a timely 3 with 4:37 remaining..
The offensive production is becoming more common for Howard, who is settling nicely into a scoring sparkplug role off the bench.
And Miles' output came after he was the third reserve wing player — behind Howard and, surprisingly, rookie Alec Burks — to have his name called in the first half.
"I thought he did a great job of just being ready to play," Corbin said. "He didn't get in his regular rotation spot and he didn't sit over there and pout. He was ready to go when he got on the floor, and as a result he played aggressive and did a good job for us."
Burks made his home debut as a pro after not getting in during Friday's win over Philadelphia, and the 20-year-old made a difference at the end of the first quarter and into the second when Utah turned a seven-point deficit into a rare first-half lead.
Burks finished with five points and three rebounds in 10-plus minutes.
Corbin's thought process for getting the rarely used rookie in?
"Just top play Alec a little bit to see if he could pick up the temp a little bit for us," Corbin said. "He's been pretty patient. He's been working his butt off to get minutes, and I thought it was a chance to get him some minutes on the floor."
While tinkering with combinations and rotations, the second-year coach also got solid contributions from reserve big men Derrick Favors (nine points, five rebounds) and Enes Kanter (four points, four boards).
In all, 11 Jazz players saw at least 10 minutes of action.
"This is what we talked about all training camp. We want everybody ready to go," Corbin said. "We're going to use more guys than normal until we get this figured out in a regular rotation. Guys aren't going to have their best games every night, so everybody has to be ready to step up and they all did a great job tonight."
Ultimately, the Jazz defense deserved the credit, Corbin added, especially the way it clamped down on the Jarrett Jack-led Hornets, holding them to 16 points in the fourth. Jack, who replaced injured Eric Gordon who replaced traded Chris Paul, had a game-high 27 points for the visitors.
email: [email protected]
twitter: DJJazzyJody