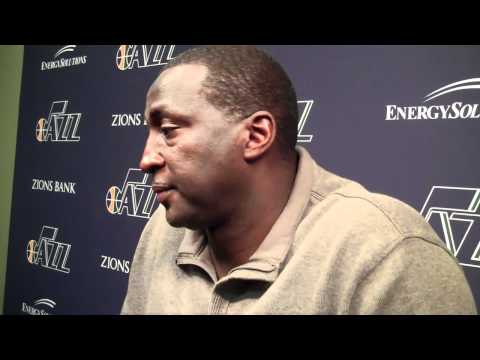 View 2 Items
Brandon Brown, Deseret News


SALT LAKE CITY A New Year's Eve bash will be costly for Josh Howard.
The Utah Jazz small forward received a $25,000 fine from the NBA offices after his penalty against San Antonio's James Anderson was upgraded to a Flagrant Foul Two.
Howard was initially penalized with a Flagrant Foul One for smacking the back of Anderson's head while the Spur was driving in Utah's 104-89 loss at AT&T Center.
The league reviewed the play Monday, upgraded the penalty's severity and doled out the hefty fine.
"It's the NBA's call. It's behind me. I'm going to move on to the next game," Howard said prior to Monday's home game against New Orleans. "It is what it is, no matter how I feel. It's part of the game."
Howard asked Anderson if was OK after the play, and the guard responded that he was "fine."
Coincidental word selection.
Howard would've been ejected had the referees assessed him with a Flagrant Penalty Two during the game. Jazz coach Tyrone Corbin didn't feel Howard was trying to be "malicious," but he acknowledged that the rule is there to protect players from blows to the head.
"He wasn't going out to try to hurt the guy," Corbin said. "I thought he made a basketball play on the ball. Unfortunately, his elbow came up and hit him in the head."
The Jazz spoke with the NBA offices about the penalty and fine, but will not file an appeal.
Email: [email protected] Twitter: DJJazzyJody