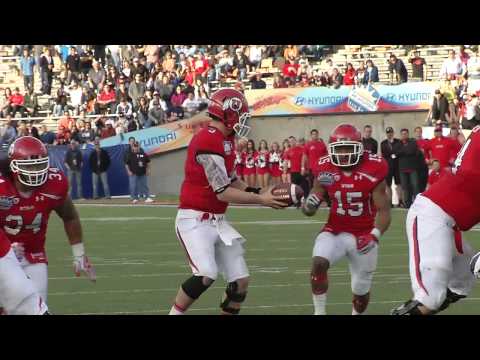 View 12 Items
YouTube

EL PASO, Texas — Utah left the 78th annual Sun Bowl beaming.
John White IV's 8-yard touchdown run in overtime lifted the Utes to a dramatic 30-27 victory over Georgia Tech. White, defensive tackle Star Lotulelei and wide receiver DeVonte Christopher were named Most Valuable Players.
"I was going to the house," White said after the decisive third-down play. "They said they were going to give me the ball and I just took it to the house. That's all I needed to do."
White wound up having quite a day. He finished with 115 yards while breaking three school records along the way — setting single-season marks for rushing yards (1,519), carries (318) and rushing touchdowns (15).
"Man, it feels great," White said. "I owe it to everyone, though. It's not just me."
Indeed. Several others stepped up as the Utes rallied from a 14-point deficit in the final 6:50 of regulation. The rally began with a 3-yard touchdown pass from Jon Hays to Kendrick Moeai on fourth-and-goal.
Coleman Petersen added the extra point as Utah closed the gap to 24-17.
It stayed that way until then three minutes remained. That's when Griff McNabb returned a punt 31 yards to put the Utes on the Georgia Tech 24.
"As soon as I caught it, I saw the wall. I mean Star could have gotten that many yards," McNabb said. "He probably would have scored, but it wasn't just me — it was the whole team."
The contributions continued — and in dramatic fashion.
On fourth-and-goal from the 14, Hays teamed with Christopher on a scoring strike that forced overtime.
"When you're in those type of situations, playmakers have got to show up," Christopher said while noting that coaches told the players that all week. "Luckily it was me. I had the opportunity and I was able to do that."
After tying the game, the Utes dodged a late scare when Georgia Tech missed a 48-yard goal as time expired.
In overtime, Justin Moore made a 34-yard field goal for the Yellow Jackets before the Utes countered with White's game-winning touchdown. He was mobbed by his teammates in the end zone.
"I'm relieved. That's all I can feel right now," ssenior captain Tony Bergstrom said as head coach Kyle Whittingham accepted the Sun Bowl championship trophy. "So much tension was building up the whole time, now it's just relief that it happened. I'm excited but ... I can breathe now. I can breathe for a second."
The thrilling finish capped a season of ups and downs for the Utes. They finished their inaugural season as a Pac-12 team with an 8-5 record — winning five of their final six games.
"We came on strong the second half of the season and this is just icing on the cake," Lotulelei said during the postgame celebration on the field.
Utah is now 7-1 in bowl games under Whittingham and winners of nine of its past 10 postseason outings overall.
"It's awesome," said safety Brian Blechen. "A comeback win is sometimes even better than just a blowout. This feels great."
It wasn't always that way, however.
A span of 28 seconds made things a bit gloomy for Utah at one point. Georgia Tech scored two touchdowns in that amount of time in the second half to break a 10-10 tie.
The Yellow Jackets pulled ahead on a 31-yard scoring strike from Tevin Washington to Stephen Hill with 4:43 left to play in the third quarter. Moments later, a 17-10 lead swelled to 14 points when linebacker Quayshawn Nealy intercepted Hays and returned it 74 yards for a score.
The outburst, capped by a PAT from Moore, made it 24-10.
It stayed that way until the exciting conclusion.
"There's no quit in these guys," Whittingham said. "They kept believing, coaches kept believing, and we found a way to win in the end."
The contest pitting teams from the Pac-12 and the Atlantic Coast Conference got off to a surprising start. Instead of a highly anticipated ground game — featuring Georgia Tech's spread option (No. 3 in the nation with 316.83 rushing yards per game) and White, the Pac-12's No. 2 rusher — both teams came out throwing.
The Yellow Jackets went to the air first, completing a 43-yard pass from quarterback Tevin Washington to Stephen Hill. The play, though, was nullified by offensive pass interference and eventually led to a punt.
Utah's offense also came out pass happy. Five of the Utes' seven plays on their opening series were throws from Hays. The last one was a 1-yard scoring strike to fullback Shawn Asiata with 9:54 remaining in the first quarter. Petersen then added the PAT to make it 7-0.
Georgia Tech responded with a 58-yard run by Preston Lyons to move into scoring position on the ensuing possession. The Yellow Jackets came up empty, though, when Moore's 42-yard field goal attempt caromed off the left goal post.
Things changed, however, early in the second quarter when Lyons rambled 36 yards for a touchdown as Georgia Tech evened the score at 7-7.
The Yellow Jackets had an opportunity to untie the score with just under three minutes to go, but Moore once again missed a 42-yard kick. This one was wide left.
Utah answered with a scoring drive to regain the lead at 10-7 with 14.6 seconds left in the half. A 31-yard reverse play from Hays to White to Reggie Dunn put the Utes on the Georgia Tech 8. Petersen wound up concluding the series with a 25-yard field goal that went through after hitting the right upright.
The Yellow Jackets managed to knot the score early in the third quarter, however, on a 32-yard field goal by Moore.
"It was a heck of a football game and you have to take your hat off to Utah for the way the came back in the game," said Georgia Tech coach Paul Johnson. "We had a lot of opportunities and we just couldn't capitalize. We didn't make enough plays."
Email: [email protected]
Twitter: @DirkFacer