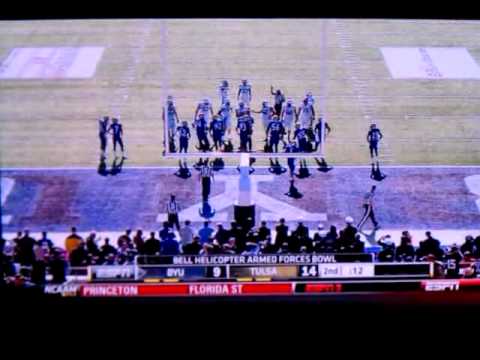 View 3 Items
YouTube

DALLAS — "I had Cody's eyes."
It'll be a drop line for some time.
One sure thing the Armed Forces Bowl accomplished is to load up BYU's archives with a couple of more very memorable plays.
The helmetless block by tackle Matt Reynolds and Riley Nelson's game-winning, fake-spike touchdown pass to Cody Hoffman are now officially legend.
They were officially enshrined when they happened. But for good measure, ESPN SportCenter had a field day replaying the 300-pound Reynolds running down the field after the guy who ripped off his helmet and clocking him like an uncaged ultimate fighter.
The Reynolds play made ESPN's No. 5 play of the day. The Nelson fake-spike was No. 1.
To my knowledge, this is the first time in BYU's storied football history two plays made the Mother Ship's (ESPN) Top 10 the same day.
The most famous Cougar bowl play of all time was Jim McMahon's "Hail Mary" to Clay Brown in the dramatic 1980 Holiday Bowl win over SMU. Steve Young's 14-yard touchdown catch from Eddie Stinnett in a win over Missouri in the 1983 Holiday Bowl is probably second. Freshman Ethyn Malumaluema's block of a UCLA field goal in the Las Vegas Bowl before his mission ranks right up there.
These plays must find a resting place.
Reynolds' play was pure drama, the kind TV talking heads love to loop at the top of the hour for a night and day on TV. ESPN used shots from three camera angles to set up their replay loop. I think it earned Reynolds some money in the NFL draft. When he goes to the NFL Combine in February, it will come up every five minutes with everybody he meets.
For Nelson, the thing I like about it is the set-up. Nelson created this play in his mind as a kid watching NFL films 'til his mom would tell him enough is enough. He told reporters BYU had a "red alert" play to clock the ball and spike it, and to also fake the spike and throw it.
Nelson took it upon himself to make the call, audible it and execute it as he "caught Cody's eyes" and did what he saw Dan Marino do on film years before.
And that familiarity with Hoffman was in the making way before Friday's game when the pair was roommates.
This is movie script stuff.
Why? Because of the perfection required on BYU's final drive that started with 4:18 to play in the game, set up by a Riley Stephenson punt to the Tulsa 1 and a huge Cougar defensive stop.
Tulsa's punter cranked a 47-yard punt to BYU's 30, but a big bounce allowed Cougar return man JD Falslev to pick up the ball with momentum and chug 22 yards to midfield.
That play by Falslev forced Tulsa to change its defense — gear coverage to take away Hoffman from a struggling Nelson.
All game long, Tulsa hurt BYU's pass protection with speed rushes and delayed blitzes the Cougars didn't react to. Time and time again, Riley got hit. He threw two picks, had a third nullified by a penalty, and a Tulsa defender dropped a potential fourth interception.
On this drive, Nelson noticed Tulsa's front seven went more traditional with their blitz and BYU's offensive line blocked it easier. It also created a more clean look for Riley to run straight ahead, something Tulsa had thwarted the entire game.
Credit Nelson for making this read. In BYU's 12 plays in this final drive, Nelson rushed four times, one was a 14-yard sprint on fourth-and-9 to Tulsa's 33. On a third-and-6, he rushed for 8 yards to the Tulsa 1 with the clock ticking down and no timeouts remaining.
This is where Nelson used the red alert and called for a fake. He saw Tulsa's linemen standing up, expecting a spike. He saw the same body language from Tulsa's corner who was set to cover Hoffman.
Nelson had the smarts to see he could fake a "clock it" and still reload for a final play of the game from the 1. He was up under center when he realized he had time to fiddle with a couple of shots.
"I thought, I can be quick with this, get it off, give us enough time for two plays," he said. "I yelled to our outside guys the call and gave them the signal and we ran it.
"The corner saw Cody's stance was not a receiver's stance at all. He was standing there waiting for it to get hiked. When Cody took off, the first thing the corner did was sprint back to not get beat on a fade. I had Cody's eyes. He stopped. I was able to put the ball back shoulder. Great play by him."
Well, great play by Nelson — the stuff of legends, Top 10 lists and future DVDs.
Friday's Armed Forces bowl could have been a touchdown win by either team but it turned out to be an old-fashioned defensive gut-it-out contest.
It was a game that would come down to a couple of critical plays.
BYU made them, Tulsa didn't.
Vault 'em.