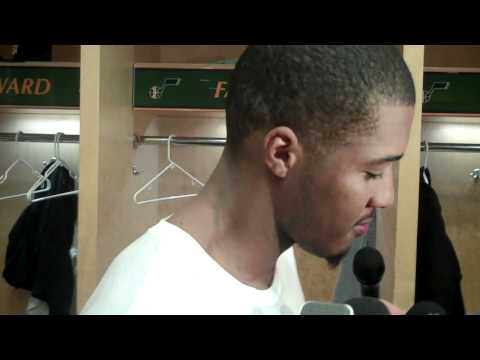 View 27 Items
Brandon Brown, Deseret News

SALT LAKE CITY — Al Jefferson couldn't play Friday night for the first time since he joined the Utah Jazz over a year ago, and the usual starting center had a message for his replacement.
Moments before the Jazz's home-opener tipped off, Big Al, unable to go because of an inflamed right ankle, told Derrick Favors, "You just got to hold it down for me."
Consider it held down.
Favors' career-high 20 points, 11 rebounds and strong defensive effort helped spark the Jazz, who regrouped from two early blowouts and Jefferson's absence to beat the Philadelphia 76ers 102-99 at EnergySolutions Arena.
"He looked me dead in my eyes and said, 'I'm going to hold it down for you,'" Jefferson said. "And that's exactly what he did. He made me proud. I was happy about it."
"It was nice. I had fun," Favors said, smiling. "We Southern boys have got to hold it down for each other."
Guys from Indiana, to Wisconsin, to Louisiana and elsewhere also held it down — and picked it up considerably after rough outings in Los Angeles and Denver — while contributing to Utah's first win of 2011-12.
"We did a lot better," starting small forward Gordon Hayward said. "We weren't perfect and we made a lot of mistakes, and we still have a lot of work to do. (But) we definitely played with a lot more energy. We played like teammates, and it was a good start for us."
At least after a rough start.
Starting point guard Devin Harris (Wisconsin) responded with a vengeance after being sent to the bench early in the first quarter.
After struggling in the first two games and for the first four minutes in this one, the former All-Star scored 13 of his 19 points in the second quarter when the Jazz turned a 13-point deficit into a 53-51 halftime lead.
Harris didn't like going to the bench four minutes into this one — nobody does like that, he said — but he credited team defense and intensity for making the turnaround possible.
"The energy level was just there," Harris said. "Guys came out a little more focused in the second quarter. We got stops. When we get stops, we're able to run, and when we're able to run, we're able to get points and the ball moves a lot better."
Hayward also had his best outing of his second season, scoring 15 points, including a clutch jumper in the final minute, and totaling three assists, two rebounds, two blocks and a steal.
Power forward Paul Millsap made the most of his first start — something decided before Jefferson was ruled out — by adding 14 points and 14 rebounds in yet another strong showing for the Louisiana Tech product.
The Jazz also got a boost from the bench, particularly from C.J. Miles (10 points), Earl Watson (nine points, four assists), Josh Howard (eight points) and Enes Kanter (six boards, four points).
But nobody had the impact that Favors did in 39 monster minutes. He even got a hand in the face of Lou Williams on the Philly sub's game-tying 3-point attempt in the final seconds, affecting the shot of the Sixers' sharpshooter.
"He gave us a huge lift," Jazz coach Tyrone Corbin said. "We know he can score some points for us, but he had some huge rebounds and the effort he had on defense for us (was big)."
Like its first two games, Utah switched between moments of struggles and success on both ends of the floor.
Utah came out flat offensively in the first quarter, only scoring 22 points and then only managed an 18-point third quarter. But the Jazz ended both halves on a high note, scoring 31 points in both the second and fourth quarters to avoid going 0-3 for the first time since the inaugural Utah season of 1979-80.
The Jazz defense sputtered at times as well against a potent Philly squad, which got 22 points from Jrue Holliday and another 20 off the bench from Williams.
But they held it down when it counted, holding off Philadelphia and sending 19,911 fans home happy.
"We just wanted to come out with a lot of energy," Favors said, "(and) play good defense and get a win in front of our home crowd."
Not much time to celebrate, though. The Jazz flew to San Antonio after the game for a New Year's Eve showdown with the Spurs.
Email: [email protected]
twitter: DJJazzyJody