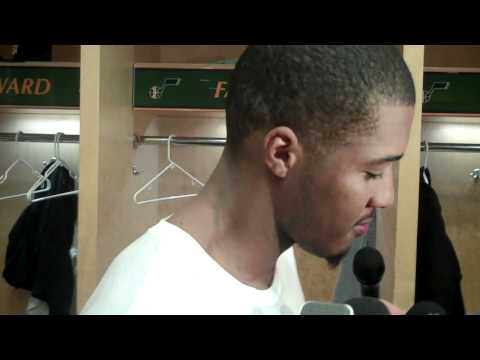 Brandon Brown, Deseret News
SALT LAKE CITY — Get off the ledge, Jazz fans, and breathe easy. There's no need to jump — your favorite NBA team is not gonna go 0-66 this season.
Not if Friday night's effort is any indication of things to come.
After back-to-back beatings on the road, the Utah Jazz returned home and conjured up visions of glorious victories from the past with a gritty (and much-needed) 102-99 thriller over the Philadelphia 76ers at raucous EnergySolutions Arena.
It wasn't clear whether Friday's drama-filled win was one which brought about great joy or simply a sense of relief. After all, in their season-opener — a 25-point loss to the Lakers — the Jazz were The Gang That Couldn't Shoot Straight. And in Game 2 — an ugly 17-point defeat at Denver — they looked like The Gang That Couldn't Play Defense.
But in Game 3 on Friday night, they became The Gang That Refused to Lose at Home.
With four starters — Derrick Favors, Devin Harris, Gordon Hayward and Paul Millsap — scoring in double figures, and two of them — Millsap and Favors — coming up with double-digit rebounds as well, this lineup looked much more focused and cohesive than the one that got slapped around in those lopsided losses at L.A. and Denver.
And with critical contributions off the bench from Earl Watson, C.J. Miles, Josh Howard and Enes Kanter, the Jazz gave their fans a wonderful, albeit a little late, Christmas present — hope.
Hope that this team will rise above all those preseason predictions that have them languishing among the worst teams in the league.
As for now, though, it's doubtful that any team in NBA history has ever been happier to be 1-2.
And Utah coach Tyrone Corbin was mighty glad to that first victory.
"We needed a win, first of all," he said. "The first two games on the road, we didn't really feel good about how we played.
"We made some mistakes again tonight, but I thought our energy level was up on the offensive end of the floor and defensively we did a great job communicating with each other. ... The guys did a good job of not falling apart but coming together more and encouraging each other and pushing each other.
"We're growing; we're getting better," Corbin said. "We're still a young group of guys, and we'll keep getting better, keep fighting and keep trying to figure it out. And as long as we stay together as a group, we have a great chance to get this thing worked out."
Before the game, shooting guard C.J. Miles — who, at the ripe old age of 24, is the longest-tenured member of the team — thanked the fans "for sticking with us through the lockout" and commended them for being the "best fans in the NBA."
Late in the second quarter, those fans came to life after the Jazz rallied from a 13-point deficit and gave them something to shout about. Harris hit two free throws with 1:37 left in the first half to put Utah on top, 48-47, for its first lead since late in the first period.
Then after the Sixers moved back in front, Millsap splashed in a 3-pointer from the corner with 6.9 seconds on the clock to give the Jazz a 53-51 halftime edge, and the crowd erupted with its vocal approval.
Philadelphia, which is certainly no slouch after coming off a 20-point victory on the road at Phoenix just two nights earlier, regained a 73-71 edge entering the final frame.
But Miles, Kanter, Watson, Favors, Howard, Hayward and Harris took turns coming up with huge plays down the stretch to put Utah back on top, feeding off the home-court crowd and refusing to let the Sixers regain the lead.
Yes, Utah's notorious "Sixth Man" certainly stepped up and made its presence felt in crunch time.
"The crowd was huge," Corbin said. "I wish we could take 'em on the road with us. They wouldn't let us quit, they wouldn't let the guys get down on themselves. And at the end there, they were such a super lift just by encouraging the guys. They hear it and they feed off it, so it was great."
Harris, the veteran point guard who had 19 points, three rebounds, three assists and a steal, agreed with his coach's assessment.
"Energy ... definitely a fun crowd," he said. "They gave us effort and energy. We play off them."
Of course, it's just one win. And tonight, the Jazz must go back out on the road to San Antonio, which has pretty much been a chamber of horrors for Utah over the last decade.
But Friday's performance gave this team and its fans more than just a glimmer of hope for a season that was beginning to look awfully bleak just 48 hours earlier.
After all, at least The Gang That Couldn't Shoot Straight or Play Defense is still the one that Refuses to Lose at Home.
And, much to their fans' relief, they aren't gonna go 0-66 this season.