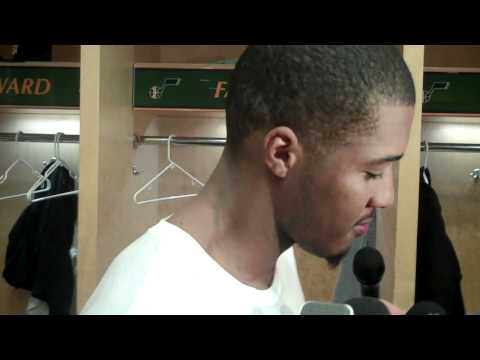 View 8 Items
Brandon Brown, Deseret News

SALT LAKE CITY Earl Watson, C.J. Miles, Enes Kanter, Josh Howard and Derrick Favors on the floor to start the fourth quarter. A 13-point second-quarter deficit. No Al Jefferson in the lineup.
Factors that seemed to stack the deck against the Jazz actually didn't, and Utah pulled out a stunning 102-99 victory over the Philadelphia 76ers on Friday night. The Jazz earn mostly high marks while picking up their first victory of the season.
GUARDS: If Devin Harris has proved anything in his time in Utah, it's that he's no John Stockton or Deron Williams. He doesn't play like a true point guard, and tries to be too much of a scorer. Harris, who committed what could have been a game-costing turnover with 13.8 seconds left, got his points though against the 76ers, leading Utah's guards in scoring with 19 points.
The Jazz got their best true point guard play from Watson, who pushed tempo and moved the ball around. He finished with one more assist than Harris despite playing three fewer minutes. Raja Bell was a forgotten man, playing just 18 minutes. Rookie Alex Burks did not play. Grade: B+
FORWARDS: Paul Millsap had an off shooting night and is taking too many 3-pointers, but played hard like usual and finished with 14 points and 14 rebounds. Gordon Hayward hit a clutch jumper with 30.2 seconds left to give the Jazz a 101-97 lead, and also made some nice passes in crunch time. Howard played 24 minutes and did a decent job, although he shot just 2-for-6 from the field. Grade: B+
CENTERS: Favors started the game in place of Jefferson at center and looked nothing like the player who struggled against the Lakers and Nuggets. He hit some short-range jumpers and showed off his athleticism near the basket while finishing with 20 points. Kanter provided some valuable minutes. He had four points and six rebounds in 15 minutes. Grade: A-Grade: A-
BENCH: Watson and Miles were Utah's two most effective players coming off the bench. Utah's reserves outscored Philadelphia's 31-29. You can't ask for much more than your bench beating the other team's bench. Grade: A-
COACHING: Fans may have wanted to summon a doctor to check Corbin's temperature when he started the fourth with Watson, Miles, Kanter, Howard and Favors. It was a high-risk, high-reward type of move and it paid off handsomely. Corbin put together other creative lineups during the game, and seemed to make the right changes when he needed to. Grade: A
OVERALL: The Jazz avoided being 0-3 for the first time in 32 years. It wasn't always pretty, especially in the first half, but they got the job done and gave their fans a reason to stay interested this early in the season. Grade A-