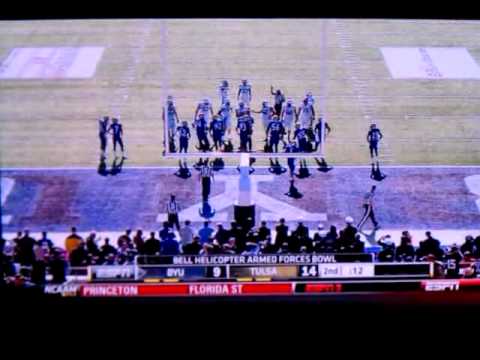 View 46 Items
YouTube

DALLAS — BYU senior left tackle Matt Reynolds started 52 games in his career and, along the way, he made hundreds and hundreds of blocks — and most of them went largely unnoticed.
However, during the Cougars' 24-21 victory over Tulsa in the Armed Forces Bowl on Friday, Reynolds made a block, which he made without a helmet, that will be remembered for a long time.
The Cougar offense sputtered for much of the game, but when it got the ball at the Tulsa 17-yard line after a muffed punt that was recovered by David Foote, with 25 seconds remaining in the first half, Reynolds, quarterback Riley Nelson and wide receiver Cody Hoffman teamed up for a memorable and crucial touchdown.
It was BYU's first TD of the game.
"That would be the play to summarize the game," said coach Bronco Mendenhall.
On first down, as Nelson scrambled left toward the sideline, Reynolds lost his helmet as he tussled with a Golden Hurricane defender.
"I probably got a little too aggressive," Reynolds said. "I think I hit his knee with my helmet and my helmet popped off. When I stood back up, I saw them running for Riley. I just tried to stop them."
Stop them he did, by peeling back and delivering a crushing block near the sideline that allowed Nelson to keep the play alive.
Nelson completed a pass to Hoffman near the middle of the field, at about the 3-yard line. After catching the ball, Hoffman battled through a couple of Tulsa defenders, then stretched the ball over the goal line for the score.
At that point, the Cougars had cut their deficit to 14-10 at halftime.
"Even though we hadn't generated much (offense) we only went into halftime 14-10 and we knew we could play better (in the second half), so that put us at least within range," Mendenhall said.
Nelson acknowledged Reynolds' crucial play.
"Yeah, without his helmet on. I mean, there you go. There's Matt Reynolds," Nelson said. "That boy is going to play in the NFL for a long time. That's why. Not only does he possess the body and physique, but he makes plays like that. He freed me on the edge. It allowed me to stop on the sideline and survey the field for a little bit longer. I was able to find Cody. Again, Cody battled to get that ball across the line."
Reynolds is expected to be drafted in the third or fourth round of next April's NFL draft.
VAN NOY'S BIG DAY: Sophomore linebacker Kyle Van Noy certainly knows how to fill up a defensive stat sheet. Van Noy recorded 10 tackles, including two sacks for minus 14 yards and five tackles-for-loss for minus 23 yards. He also had a forced fumble and one quarterback hurry.
"(Coach Mendenhall) puts me in spots to make plays," Van Noy said. "Luckily, he gives me some freedom ... The other players do their job, and it helps me to be free. It's just fun to be out there and make plays like that. I don't even remember because I was so nerve-wracking for the end of the game. To help my team out to win, that's all that matters. We're in this together."
SPORTING CAMOUFLAGE: The Cougars sported all-white uniforms while the Golden Hurricane wore all blue. The "Y" oval on BYU's helmets were in camouflage in honor of the military. Tulsa's helmets featured a similar camouflage tribute.
REPRESENTING: Former BYU basketball star Devin Durrant, who is currently serving as the President of the Texas Dallas Mission, attended Friday's game, as did a large contingent of missionaries from the mission.
FLAG BEARERS: Former BYU defensive lineman, and current Pittsburgh Steeler, Chris Hoke carried out the alumni flag before the game. Linebacker Spencer Hadley carried out the special teams flag, and defensive back Joe Sampson carried out the team flag.
email: [email protected]