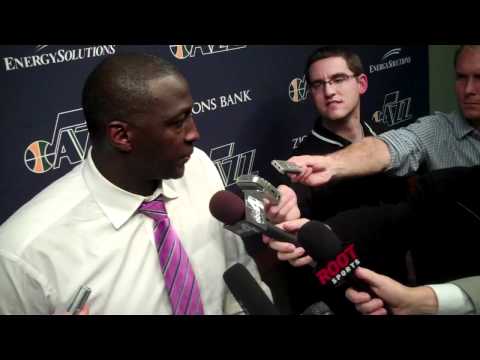 View 20 Items
Brandon Brown, Deseret News

SALT LAKE CITY — Two eight-year NBA veterans made their debuts for the Utah Jazz in Wednesday night's exhibition win over Portland, and while both Josh Howard and Jamaal Tinsley each had some shaky moments, on the whole they impressed their coach and the fans at EnergySolutions Arena.
Howard, who sat out Saturday's intrasquad scrimmage at ESA, saw 20 minutes of action and came up with eight points and three rebounds, while Tinsley, who didn't play two nights earlier in Portland, had six points, three assists and six rebounds from the point guard position in just 12 minutes.
"I thought they both did great," said Jazz coach Tyrone Corbin. "Josh is getting in basketball shape, he knows how to play. He's in good shape, but not basketball shape. Tonight was a great opportunity to get him more minutes."
As for Tinsley, Corbin said, "Jamaal did a great job. He knows how to play, he penetrates and get the ball to the right guys. He's a tough defensive player, he can guard and force guys to where he wants them to go."
Howard, 31, is a former all-star who played most of his career in Dallas before sitting out most of last year after knee surgery. The 33-year-old Tinsley played most of his career at Indiana until 2008 and then played at Memphis in 2009-10, but didn't play in the league last year. They were both picked up by the Jazz as free agents this year.
Both players were on the floor during the last four minutes when the Jazz had to hang on for dear life after squandering a 10-point lead early in the fourth quarter.
Tinsley stole the ball from Jamal Crawford seconds after entering the game and went in for an uncontested layup to put the Jazz up 84-78. Then Howard scored in the lane with a 12-foot running jump shot and Tinsley followed with a pair of free throws to make it 88-79.
With 2:12 left, Howard made his best move of the night, when he spun in the lane and got free for a 15-foot jumper.
"We had a play run, but I saw a lane open up and as a vet you have to take advantage of your opportunity," Howard said.
After that, things didn't go quite as well for the two veterans, as Tinsley made back-to-back turnovers around the 1:30 mark and Howard missed a pair of free throws with 29 seconds left.
Both players acknowledged the negative aspects of their game toward the end, but said they'll bounce back.
"It was tough, they started pressing at the end and we turned the ball over, but overall we played pretty good," Tinsley said.
Howard only made 2-of-6 free throws on the night and he blamed it partly on not being in basketball shape yet.
"I would say I was winded," Howard said. "At the end of the day, I've got to get my legs under me. I was out there the longest time I've been since last season, so it's part of the game and I'll work on it tomorrow. I felt a whole lot better than the first game."
One thing Howard appreciated most was playing in front of Jazz fans for the first time in a Utah uniform.
"It was cool, I heard my name called out a lot," he said. "I've always loved the fan support here and I've always been on the opposite end. The fans stayed behind us tonight."
Tinsley is competing for a spot on the Jazz roster, but appears to be safe for the start of the season after the Jazz let four players go earlier Wednesday and is one of 14 players on the team right now.
"Day by day I'm blessed to get the opportunity to play two preseason games and I'm just going to come out here and keep on working hard," he said.
email: [email protected]