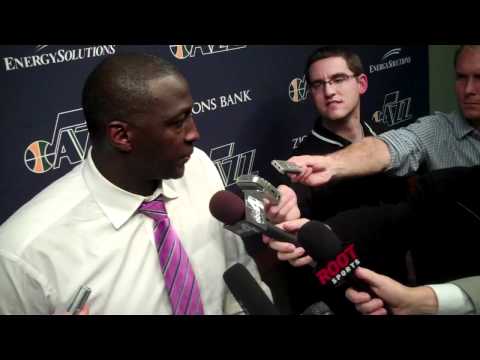 View 20 Items
Brandon Brown, Deseret News

SALT LAKE CITY — Whether it was overcoming some opening-night jitters, getting a touch more familiar with each other, or simply feeling at home in the comfortable confines of EnergySolutions Arena, the Utah Jazz looked like a different team Wednesday. Utah avenged Monday's 20-point loss by posting a 92-89 win over the Portland Trail Blazers.
The fourth quarter, which pitted Portland's headliners against a ragtag mix of Jazz bench players, produced a dramatic finish. Laced with turnovers and missed shots, Utah did just enough to emerge victorious over the more experienced Blazers squad.
All in all, there was more bounce in Utah's step, a comforting sight after an extremely abbreviated preseason transitions quickly into Tuesday's regular-season opener. The offense and defense, while both needing lots of work, flowed more smoothly.
Role reversal: After struggling in Monday's outing, veterans Mehmet Okur and C.J. Miles fared much better off the bench Wednesday. Okur showed the Jazz what was sorely missed during his injury-plagued 2010-11 year, tallying seven points in an active nine minutes. Meanwhile, Miles had a brilliant 15-point half, scoring on an array of outside shots.
On the flipside, hampered by the foul troubles, sophomores Hayward and Favors both struggled after being inserted into the starting lineup. Hayward had just three points before exiting with his sixth foul. After a stellar 25-point performance Monday, Favors finished with a more pedestrian seven on Wednesday.
Foul situation: With three starters (Raja Bell, Hayward and Favors) tagged with three fouls apiece, the Jazz finished the first quarter with 12 fouls (including several on the offensive end). Combined with the nine fouls accrued by Portland, it made for a very whistle-heavy, flow-stopping start to the game. At one point, with 3:55 left in the opening quarter, Utah had 15 points and 11 fouls. When the dust settled, basketball fans witnessed 66 combined fouls.
Quick hits:
Utah's shooting guards, longtime vet Raja Bell and rookie Alec Burks, combined to shoot 0-11 from the field.
Newcomers Josh Howard (eight) and Jamaal Tinsley (six) both scored their first points in a Jazz uniform.
With 10 minutes left in the game, forward Jeremy Evans had scored 18 points in 19 minutes of playing time (over the two preseason games) — not including, much to Jazz fans' chagrin, a crowd-pleasing dunk that was waved off due to an offensive foul call.