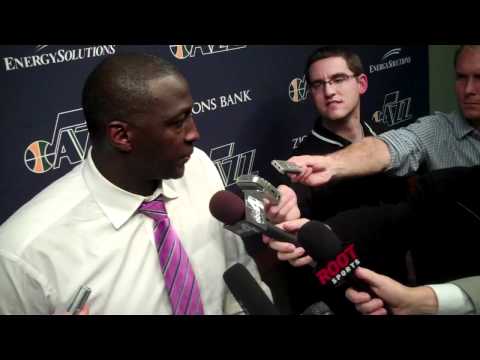 View 20 Items
Brandon Brown, Deseret News

SALT LAKE CITY — Jamaal Tinsley is the last nonguaranteed contract man standing.
Former Jazz point guard Keith McLeod and NBA hopefuls Paul Carter, Trey Gilder and Scottie Reynolds were waived Wednesday morning.
"It was tough because you're cutting guys," Jazz coach Tyrone Corbin said. "I've played this game. I've been released before. It's not fun, but you learn from it."
Corbin told the four released players the Jazz will keep track of their playing careers and that they could be brought back "if the opportunity presents itself."
Tinsley seized the opportunity that he was presented with in Utah.
The longtime Indiana point guard with somewhat of a checkered past was out of the league last season. He worked himself back into shape, played in the D-League this fall and made the most of his redemption moment in camp.
"I'm blessed to get the opportunity to play basketball again," the 6-foot-3 playmaker said. "Every day I wake up and I just take it as a new day for me to get better."
Utah now has three NBA-seasoned point guards in starter Devin Harris (seven seasons), backup Earl Watson (10 seasons) and Tinsley (eight seasons).
"Jamaal is a veteran guy. He did a good job in picking up the stuff quickly," Corbin said. "He's in tremendous shape. He's had a lot of success in this league before, so we thought it would be best now to keep him. He's earned it. He's earned his second chance."
The Jazz will have until Feb. 6 to decide whether or not to keep Tinsley for the full season.
"He's a crafty NBA veteran, a guy that's been around," Harris said. "He's been kinda vocal, just knows how to run a team. I think he fits in well to what we do."
General manager Kevin O'Connor said the four waived players have professional basketball jobs lined up for them either in the D-League or overseas.
"I have nothing but respect for the guys who came," Corbin said. "Paul Carter did a great job. Scottie Reynolds did all he could. ... Trey did a great job, tremendous athlete for us. We really appreciate his effort. Keith McLeod, a veteran guy who we've had here before, still has gotten better."
RULE CHANGE: With 14 players, the Jazz have an NBA-approved roster. Teams can carry between 13-15.
The new collective bargaining agreement comes with a wrinkle. Thirteen players (previously 12) can dress and play through Feb. 6. From then on, the NBA introduces a weird change as teams will still be allowed to dress 13 guys but only 12 can play.
SUBBING IN STRIDE: In his first six seasons, C.J. Miles started in 145 games and came off the bench 188 times.
Miles, who started Monday, hasn't hidden his desire to be a full-time starter. On Wednesday, the 24-year-old returned to reserve role, and you won't hear him pouting about it, as he previously stated.
"I don't think anybody's done it more times than I've done it here, going back and forth," he said. "So I'll be fine."
Whether starting or subbing in, Miles said his job remains the same.
"Playing basketball," he said. "That's what I'm going to do, what I'm going to keep doing. It's what I'm here for."
WORK IN PROGRESS: Corbin has been pleased with the accelerated rate eight-year small forward Josh Howard is picking up Utah's system.
Howard's surgically repaired knee has fully recuperated as well.
"I'm excited to have him. He's a veteran guy who's had a lot of success in this league," Corbin said. "He's healthy and feeling good about his body. Now it's just getting him familiar with what we're doing here and getting him in better basketball shape. He's going to help us a lot."
Email: [email protected]
Twitter: DJJazzyJody