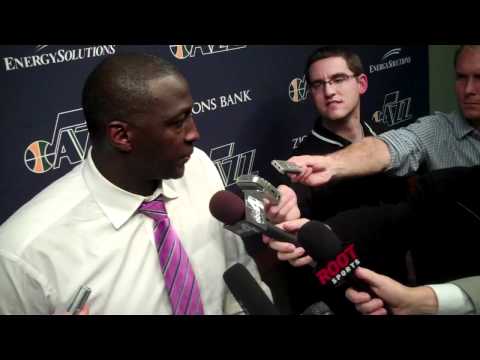 View 3 Items
Brandon Brown, Deseret News

SALT LAKE CITY — Gordon Hayward was noticeably surprised when informed he was the cover boy for the Utah Jazz's 2011-12 pocket schedule.
Learning that news wasn't the only shock.
The second-year guard-forward laughed and shook his head when taking a first glance at his touched-up photo.
"What's up with the hair?" Hayward asked, incredulously.
Indeed, his action-shot do is a bit wild. A thick, white border around the airborne No. 20 accentuates his hair's poofiness.
It's also unclear whether he's trying to dish, drive or pose.
"Am I passing? Just looking good for it? … I don't know what I'm doing right there," he joked. "It's still all good."
Kidding aside, the 21-year-old is flattered to be the foldable face of the franchise's portable itinerary.
"I think it's pretty cool to see yourself on the pocket schedule," Hayward said. "That's all I can say."
Not surprisingly, his Jazz teammates had more to say.
"He needs a haircut," C.J. Miles said. "But then, when he cuts his hair he looks like he's 12."
"The hair is kinda weird," Al Jefferson chimed in. "That's a helluva move, I guess."
If it makes Hayward feel any better, the Jazz center was even more critical of the other player photo in the schedule.
Jefferson laughed when shown a close-up shot of his sweat-drenched, focused face on the inside.
"That's an ugly picture, too."
Twitter: DJJazzyJody