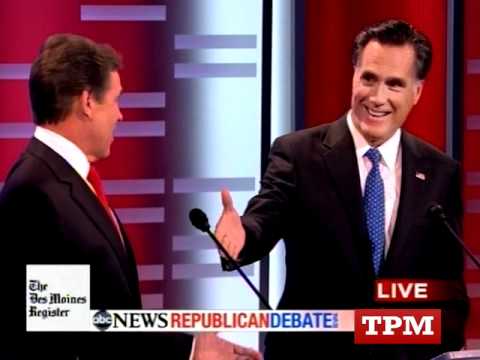 YouTube
Mitt Romney offered Rick Perry a $10,000 bet Saturday during the Republican presidential debate, and opportunists from all over the political spectrum are howling to high heaven that this is just the latest example of how the uber-rich Romney is out of touch with most Americans.
Perry sparked an unforced error from Romney by claiming that the former Massachusetts governor changed critical language about individual healthcare mandates in his book "No Apology" from one printing to the next. By offering to bet Perry $10,000 that the Texas governor was dead wrong, the CEO of the 2002 Olympics is drawing fire from Republicans and Democrats alike.
A sampling of the criticism:
Washington Post's The Fix blog: "Former Utah governor Jon Huntsman … tried to capitalize — buying the web address www.10kbet.com and populating it with articles drawing attention to Romney's gaffe."
New York Times: "Mitt Romney became the target of mocking criticism on Sunday from several of his Republican presidential rivals. … A day after Mr. Romney unwittingly created a fresh punch line when he extended his hand during a debate and tried to make a $10,000 bet with Gov. Rick Perry of Texas to settle a disagreement over health care, Mr. Perry said that the exchange was the latest sign that his opponent was out of step with most voters."
CBS News' Political Hotsheet blog: "The Democratic National Committee immediately seized upon Romney's proposed wager, tweeting lines like, 'FACT: $10,000 is almost three times what the average family spends on groceries in a year.' Bill Burton, who runs the pro-Obama group Priorities USA, said the comment shows Romney 'could not be more out of step.'"
In an apparent reaction to the ongoing skewering, Romney made the rare move of invoking his LDS missionary experience in France during the 1960s during a public appearance Sunday in New Hampshire.
Per Politico: "'Most of the apartments I lived in had no refrigerators,' Romney told a crowd of 300 at a VFW hall here Sunday afternoon, launching into a long anecdote about life as a Mormon missionary in France that touched on the difficulties of shopping before every meal and living in buildings without a shower. 'If we were lucky, we actually bought a hose and we stuck it on the sink, and we'd hold there with the hose and the big bucket underneath us in the kitchen and wash ourselves that way. And so, I lived in a way that people of lower-middle income in France lived.'"
It may be of little solace to Team Romney at this point, but Mitt was apparently in the right: Factcheck.org reports, "Perry once again falsely accused Romney of writing in his book 'No Apology' that he wanted to impose his state's health care plan at the federal level"; and the Los Angeles Times adds, "Say what you will about the political wisdom of making a $10,000 wager with one of your GOP rivals at a time of economic distress … Rick Perry would be writing Mitt Romney a check today if he had taken him up on his wager on healthcare reform."
EMAIL: jaskar@desnews.com