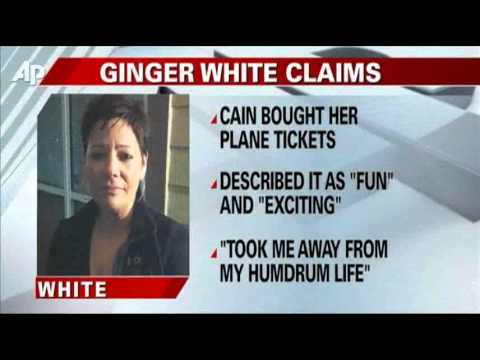 View 3 Items
YouTube

It was something that took me away from my sort of humdrum life at the time.
Amid allegations of a 13-year extra-marital affair with an Atlanta businesswoman, Herman Cain's campaign announced Tuesday it is "reassessing how to move forward," reports the Associated Press.
After weathering accusations of sexual misconduct by multiple women during his time at the National Restaurant Association, the latest news coincides with sharp dip in his polling numbers.
"He said obviously it's taken an emotional toll on his family, but he's moving ahead with the campaign," Steve Grubbs, Cain's Iowa campaign chairman and another person on the call, told The Associated Press. "He said that they will be reassessing the campaign," including how to move forward given that the allegations have damaged his fundraising.
Grubbs added: "He said this lady was a friend, someone he thought was a friend, that he was trying to help out financially and had been a friend for some period of time. But that nothing inappropriate occurred."
On Monday, Ginger White said in an interview with Fox 5 Atlanta that her affair with Cain ended not long before the former businessman from Georgia announced his candidacy for the White House.
"It was fun," said White, 46, as she described Cain buying her plane tickets for a rendezvous in Palm Springs, Calif. "It was something that took me away from my sort of humdrum life at the time. And it was exciting."
Cain went on television to flatly deny White's claims even before the report aired.
"Here we go again," Cain told CNN as he denied White's accusation. "I didn't do anything wrong."
He said in the interview that he would not abandon his bid in light of the allegations, "as long as my wife is behind me and as long as my wife believes I should stay in this race."
Reaction began to pour in quickly Tuesday. Some assumed Cain was done, or predicted he soon would be.
Although a senior Cain staffer told a CBS News reporter that the reassessment is no different than the one that took place "when the first false allegations came out," the announcement has some political observers suggesting that Cain's campaign is finished.
Rep. Michele Bachmann echoed this sentiment when she said Tuesday morning that the people around her believe Cain is "done" in the wake of the latest allegation.
Gingrich offered a less definitive assement of Cain's prospects.
"Remember I was supposed to be dead in June and July," Gingrich said in an interview with CBS News in South Carolina. "I am not going to go around declaring anybody else dead."
With Cain hedging towards an exit strategy, the race for the GOP's Not-Romney may come down to frontrunner Newt Gingrich and dark horse Perry says Fox News.
Cain's stumble will likely benefit Gingrich explained Rich Galen, a former Gingrich aide, in an interview with the Washington Post. "I think it benefits Newt because it is in Romney's interests to have the conservative vote as widely dispersed as possible,"
EMAIL: mwhite@desnews.com