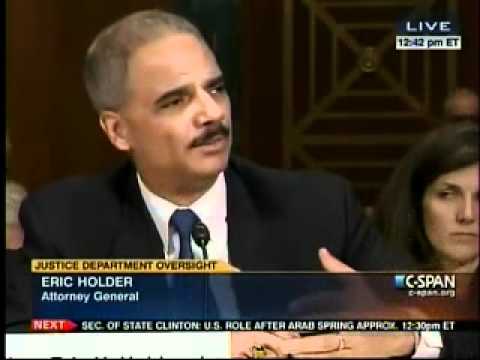 View 4 Items
YouTube



The Obama administrations Fast and Furious operation was fundamentally different than the Bush-era Operation Wide Receiver, but it should be an impetus for increased gun control, administration officials said in recent Senate Judiciary Committee hearings.
Lanny Breuer, the assistant attorney general in charge of the criminal division, and Attorney General Eric Holder testified at Congressional hearings on Nov. 1 and Nov. 8 respectively. During each of their testimonies, Holder and Breuer discussed Fast and Furious, a government operation that purposely put as many as 1,800 weapons in the hands of Mexican drug cartels.
Fast and Furious became public earlier this year when ATF agent John Dodson came forward following the death of Brian Terry, a member of a special tactical border squad. Terry was killed while on patrol, and the guns used in his murder were later traced back to Fast and Furious.
Although the government was responsible for the guns allowed into Mexico, both Breuer and Sen. Dianne Feinstein, D-Calif., discussed the need for increased gun control during the Nov. 1 hearing.
I know others disagree, but we have very lax laws when it comes to guns, and I think this to some extent influences BATF and how they approach the problem as to whether they have political support or not, Feinstein said. The question comes, what can we do? Id really rather concentrate on the constructive rather than other things.
From my understanding, 94,000 weapons have been recovered in the last 5 years in Mexico, Breuer said. And of the 94,000 weapons that have been recovered in Mexico, 64,000 of those are traced to the United States. We have to do something to prevent criminals from getting those guns.
According to the U.S. government and Wikileaks cables, the most fearsome weapons used in Mexico did not, in fact, come from the United States. Instead, the State Department cables say that military type equipment, including grenades and light anti-tank weapons, along with guns such as the Barrett .50 caliber AK-47 assault rifles, .62 and its variants, and the "cop killer" FN 5.57, are from the arsenals of the armies of Central America.
Although opponents of stricter gun control regulations say the figures cited by Breuer are inaccurate, both Breuer and Feinstein maintained that tightening current gun regulations is necessary.
There has been a lot said about Fast and Furious, and perhaps mistakes were made, but I think this hunt for blame doesnt really speak about the problem, Feinstein said at the hearing. We have more guns in this country than we have people, and somebodys got to come to the realization that when these guns go to the wrong places, scores of deaths result, and thats exactly the case with the cartels.
It is clear that we need more tools to get those people who are buying the guns and illegally transporting them to Mexico, Breuer said. We cannot permit the guns to go knowingly and we cannot permit the guns to go unknowingly. We need to stop the flow.
Breuer suggested that ATF needs the ability to know when guns were purchased, along with the ability to forfeit the weapons and inventories of gun dealers who knowingly sell their guns to criminals.
Attorney General Holder also said during the Nov. 8 hearing that federal authorities suffer from a lack of effective enforcement tools, including tougher legislation to prosecute gun traffickers and funding for agents to combat weapons smuggling.
Beyond identifying where errors occurred and ensuring that they never occur again, we must be careful not to lose sight of the critical problem that this flawed investigation has highlighted: we are losing the battle to stop the flow of illegal guns to Mexico, Holder said.
In response to criticisms regarding Fast and Furious, the Justice Department announced in July that all gun shops in Texas, California, Arizona and New Mexico must report purchases of two or more of some types of rifles by the same person in a five-day span. The requirement was argued in court in October, with opponents saying it created a federal database of gun buyers in violation of their privacy.
Rep. Elijah Cummings (D-Md) and Rep. Carolyn Maloney (D-NY) have also introduced a dedicated firearms trafficking statute, but it is stalled in the House Judiciary Committee, The Hill reports.
Id want to change the subject too if I were them," Rep. Trey Gowdy, R-S.C. told The Hill. "Im happy to have a conversation about broader gun laws, but we're going to do it after Fast and Furious.
In October, Rep. Joe Walsh, R-Ill., called for Holder to resign following information that Holder may have lied to Congress about his knowledge of the Fast and Furious operation. Currently, 38 members of Congress have called for Holder to resign, The Daily Caller reports.
The American people deserve to know the truth regarding Attorney General Eric Holders knowledge and role in the Fast and Furious operation, Walsh said. "This program was deliberately designed to attack law-abiding American gun owners and gun dealers. Why else would an anti-gun administration force licensed firearms dealers to sell guns to violent criminals?
The bottom line is that it doesnt matter how many laws we pass if those responsible for enforcing them refuse to do their duty — as was the case in Fast and Furious, Sen. Charles Grassley, R-Iowa, said.
Lets be clear about this. Fast and Furious was not botched. It did exactly what it was intended to do, Gary Marbut, the president of the Montana Shooting Sports Association wrote at AmmoLand.com. It delivered thousands of untraced U.S. guns to criminals at the behest of the [Bureau of Alcohol, Tobacco, Firearms and Explosives] and with the knowledge and assumed approval of top Justice Department and other administration officials. Why? To set the stage for more gun control, of course.
During the Nov. 8 hearing, Attorney General Holder was targeted by lawmakers for his failure to apologize to the family of Brian Terry, as well as a Feb. 4 letter declaring that ATF makes every effort to interdict weapons that have been purchased illegally and prevent their transportation to Mexico.
The information in that letter was inaccurate, Holder said during the hearing. Thats something I regret.
During the hearing, Sen. Chuck Schumer, D-NY, discussed Operation Wide Receiver, which took place during President George Bushs time in office. Schumer said he feels theres been a selective way the investigation into gun walking has been pursued so far.
Its sort of one-sided outrage about the whole issue when we know now that it began, or its progenitor began, before you took office, before President Obama took office, Schumer told Holder. He went on to call for an investigation into Operation Wide Receiver.
Sen. John Cornyn, R-Texas, agreed that Wide Receiver should be investigated, but also questioned Holder about the distinctions between the two programs.
Do you know that Wide Receiver was done in conjunction with the government in Mexico and the intention of the plan was to follow the weapons? Cornyn asked Holder. Neither was the intention to follow the weapons in Fast and Furious, nor did Mexico know that the United States government was allowing guns to walk into the hands of the cartels. Did you know that?
I have not tried to equate the two, Holder said. Ive not tried to equate Wide Receiver with Fast and Furious.
According to National Review, Operation Wide Receiver did take place under Bush's ATF, but Wide Receiver involved controlled delivery rather than the uncontrolled delivery used in Fast and Furious. Wide Receiver was also done in coordination with Mexican authorities, who were not aware of Fast and Furious.
During the hearing, Cornyn also asked Holder if he would like to apologize to the family of Brian Terry.
I certainly regret what happened to agent Brian Terry, Holder said. It is not fair, however, to assume that the mistakes that happened in Fast and Furious directly led to the death of agent Terry.
I thought [Holder] was very evasive, Terrys mother Josie told CBS News. I thought that this was his second time around, and I still didnt get anything out of it — at all. Seems like all the questions that he was asked, he was evading or throwing someone else underneath the bus.
A Terry family friend, Lana Domino, criticized Holders comments as being insincere, saying that he never contacted the family or attended a memorial, Politico reports.
However, Politico also reports that Holder sent a letter to the family of Brian Terry the next day. In the letter, Holder apologized for the loss of Brian and offered to meet with the family to answer their questions about what happened. The letter, according to The Daily Caller, was sent to the press before it was sent to the family.
In other Fast and Furious news, former Arizona U.S. Attorney Dennis Burke, who was closely tied to Fast and Furious and resigned in August, admitted to leaking a memo intended to discredit whistleblower John Dodson.
Dennis regrets his role in disclosing the memo but hes a stand-up guy and is willing to take responsibility for what he did, Chuck Rosenberg, a lawyer for Burke, told NPR. It was absolutely not Denniss intent to retaliate against Special Agent Dodson or anyone else for the information they provided Congress.
8
comments on this story
Additionally, CBS reporter Sharyl Attkisson, who has followed Fast and Furious since the beginning, reported that new details on the murder of federal ICE agent Jaime Zapata suggest ATF knew about the murder suspects illegal gun smuggling, but failed to charge or arrest them until after Zapatas death.
I hope that its not a coverup. I pray that the weapon that killed my son didnt come from the United States and was allowed to travel to Mexico, Mary Zapata, Jaimes mother, said. A few days after he passed away, he came to me in a dream, and he pointed at his lips and he said, Mom, I cannot speak. You have to speak for me. It suggests, Make sure that another person does not have to go through what I went through.