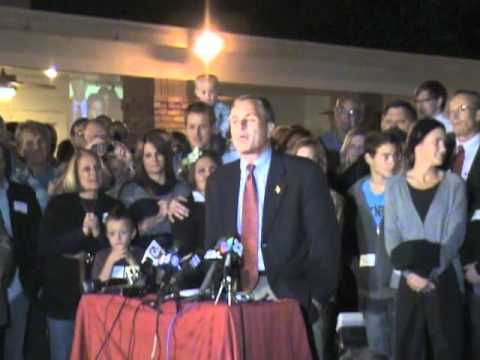 View 3 Items
YouTube

Next to Mr. Pearce's aggression, Mr. Lewis embodies niceness and politeness.
MESA, ARIZ. — Immigration advocates have been crowing since Arizona Republican Sen. Russell Pearce, author of the state's controversial anti-illegal immigration law, was ousted from the legislature Tuesday. But, political experts say, his defeat was less about immigration than it was about civility.
Pearce, a conservative member of The Church of Jesus Christ of Latter-day Saints, lost his seat to represent Mesa, Ariz., to a fellow Republican and Mormon, Jerry Lewis. Lewis's political views — including his stance on immigration — are surprisingly similar to Pearce's.
"I don't disagree with Pearce on much," Lewis told The Economist.
Both men believe in small government and low taxes. On the immigration issue, Lewis believes Pearce's Senate Bill 1070, which put immigration enforcement into the hands of local and state police, is a good starting point. He would have opposed it, he said — but only because he believes parts of the law were excessive.
"If politics really is about 'issues,' the differences comes down to tiny nuances," The Economist observed. "So tone and style have become substance in this race, as arguably in national politics. And what a contrast emerges there. Next to Mr. Pearce's aggression, Mr. Lewis embodies niceness and politeness."
The Economist described Lewis as appearing to "have stepped out of a Norman Rockwell painting." The 55-year-old used to be a Boy Scout leader and missionary for The Church of Jesus Christ of Latter-day Saints. Pearce, they called a tough-talking, gun-loving government hater.
Controversial immigration policies aside, early in 2011, Pearce's ethical values came under fire when it was revealed the senator accepted and did not report nearly $40,000 in all-expense-paid junkets and college football tickets from Fiesta Bowl officials while helping the college football organization secure public subsidies from the state. In the months leading up to the recall election, Pearce took criticism after supporters allegedly put a third candidate on the ballot to pull votes away from Lewis.
Most Arizonans were tiring of the "venom," The Christian Science Monitor reported. Citizens for a Better Arizona collected thousands of signatures to force the recall election.
"It really became more — to some degree — that Russell Pearce was somewhat of an embarrassment," Bruce Merrill, a political scientist and a professor emeritus at Arizona State University in Tempe, told the paper.
In an article published in The Washington Post Wednesday, reporter Rachel Weiner suggests the discussion of civility may have been fueled in part by The Church of Jesus Christ of Latter-day Saints. Mesa is home to one of the largest populations of Mormons in the country.
The LDS church issued a statement in June emphasizing the importance of treating one another as "children of God" and avoiding targeting any specific group of people. Following the statement, the number of people in Mormon-dominated Utah, which was considering an SB1070 copycat bill, who opposed Arizona's enforcement-only approach to immigration jumped 11 percentage points, according to a Brigham Young University study. In Arizona, Pearce started taking heat.
"This is a Mormon family feud," Dave Richins, a Mesa councilman, told the Economist.
"Pearce's enforcement-only views on immigration are in direct contradiction with the Mormon church's June statement on the issue," wrote Stephen Lemons of the Phoenix New Times.
Dee Dee Garcia Blase, national president of the Tequila Party and the first person to initiate the recall, told The Colorado Independent efforts in Utah to craft a more humane approach to immigration reform turned the tide.
23
comments on this story
"Last night's win consisted of the LDS community, conservatives, libertarians, independents and Democrats uniting and ousting one of the most anti-immigrant, anti-Latino politicians in American history," she said.
After the win was announced, Lewis promised cheering supporters to bring a "civil tone to politics," according to The Arizona Republic.
"We showed that civility is a sign of strength, not weakness," he said. "We now have an opportunity to heal the divide in Mesa."
Pearce said, "If being recalled is the prize for keeping one's promises, then so be it."
Key provisions of SB1070 are on hold pending a federal legal challenge.
EMAIL: estuart@desnews.com