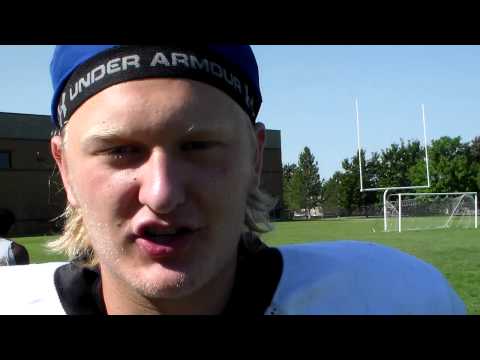 View 8 Items

You look down our roster and there's guys going into their junior year everywhere. That's good in that most of them have played, but you still miss that senior leadership a bit potentially. We do have some good seniors, though, and we'll be counting on those guys.

—Pleasant Grove head coach Les Hamilton
Note: Pleasant Grove finished with a 9-3 overall record in 2013 and tied for first in Region 4 with a 4-2 record. It lost to Jordan 62-42 in the 5A quarterfinals.
PLEASANT GROVE — Tight games always seemed to go Pleasant Grove's way in 2013, and for good reason. The team was filled with strong senior leadership — players who knew when and how to step up when the Vikings needed it.
With those senior leaders now gone, Pleasant Grove will be hard-pressed to match last year's success in tight games this season.
"Hopefully some guys can step up," said coach Les Hamilton. "You never know how kids will respond until they get there and we'll find out soon enough. Last year we had it and we're hoping for it this year."
Pleasant Grove enters the 2014 season with some good experience formed mostly by juniors — many of whom played last year as sophomores, according to Hamilton.
"You look down our roster and there's guys going into their junior year everywhere," Hamilton said. "That's good in that most of them have played, but you still miss that senior leadership a bit potentially. We do have some good seniors, though, and we'll be counting on those guys."
Headlining the senior class are offensive lineman Demetrius Davis, defensive lineman Jacken Hunter, quarterback Christian Miller and offensive lineman Spencer Snow.
"I like having two senior leaders on the offensive line," Hamilton said. "We lost some very good linemen last year, but I think we'll be fine there with those two guys and some others."
At quarterback, Hamilton believes he has three viable candidates, beginning with Miller and ending with a player who presents a very unique coaching challenge.
"My son, Isaac Hamilton, is a sophomore and looking like a good quarterback," Hamiton said. "I've been coaching a long time and it's a challenge I've never encountered and it's hard. I'll admit it's very hard knowing how to coach my son at such a vital position, but I'm learning and hopefully we do it right."
Along with Miller and Isaac is junior Matthew Wilde.
"I like all three of them and believe we're going to be fine there," Hamilton said. "Finding the right one will be a challenge since all three of them are so good."
Others expected to make heavy contributions include junior receivers Jacob Doman, Coleman Edwards and Malik Overstreet.
"We feel good about the receiver position and the ability of our guys to make plays," Hamilton said.
On defense, leadership and stellar play is expected of junior linebackers Dallin Pili and John Raas, along with Doman, who also plays defensive back with senior Tre Johnson.
"I really like our linebackers heading into the season," Hamilton said. "Pili was a standout last year and we really expect big things from him this year. He's a great athlete."
Hamilton is now in his third year at Pleasant Grove and believes his teams have seen improvement every year. The goal is obviously to keep improving and go further in the playoffs this time around.
"I expect good things from the team this year," Hamilton said. "Every year the system gets more and more established and we're ready to go. The region is tough, but if we get that great leadership we had last year I think this team can do some great things."
Pleasant Grove Vikings at a glance
Coach: Les Hamilton is entering his third year at Pleasant Grove after coaching at Alta High, Hunter High and Grantsville High. He has a 92-45 career record. He won two state championships while at Alta, and he's from Petaluma, California.
Offense (5 returning starters; Spread offense)
Hamilton was one of the first coaches to run a spread offense in the Utah prep ranks, and he'll do so again this year with the Vikings. But don't think that means an abandonment of the running game considering the top running backs Hamilton has coached in past years and what looks to be a very good offensive line.
"We'll run it when we have to. We always do and we'll work to keep defenses off-balance like we always do," Hamilton said.
Defense (4 returning starters; 3-3-5 defense)
The 3-3-5 system is unique and relies on great safety play. Hamilton believes a certain player can provide such play, much like he did a year ago.
"Jacob Doman is a fantastic athlete and we'll have him playing both on offense and defense this year," Hamilton said. "On defense we really need his speed, ability to cover a lot of field and his experience. He'll be very important for us back there."
Coaches preseason Region 4 straw poll: Second
Deseret News Region 4 prediction: First
Bottom line: Pleasant Grove should again finish on top of the region and make another run in the 5A playoffs. Hamilton has been forming teams to peak this year, along with next, so expect the Vikings to make some noise and possibly end up playing at Rice-Eccles Stadium for the final two rounds.
….
Pleasant Grove coaching history
2012-current — Les Hamilton (16-7)
2004-2011 — Dale Sampson (48-44)
1987-2003 — Bill Mikelson (89-83)
1980-1986 — Doug Bluth (46-26)
1976-1979 — Bill Kelly (17-21)
1971-1975 — Paul Gillespie (32-17)
1967-1970 — Unknown (15-22)
1966 — Ron Nielson (4-5)
1962-1965 — Gordon Osborne (18-15-3)
1957-1961 — Unknown (18-22-2)
1955-1956 — Ned Alger (22-0)
1953-1954 — Gil Meier (5-9-2)
1952 — Mr. Shifrer (0-7)
1943-1951 — Unknown (25-39)
1937-1942 — Earl "Duke" Giles (8-26-1)
1936 — Elroy West (0-4)
1908-1935 — Unknown (3-14-3)
.....
Deseret News First Team all-staters the past 10 years
2013 — Zac Dawe, DL
2011 — Brandon Fanaika, OL
2010 — Austin Heder LB
2009 — Joe Kruger, DL
2009 — Dallas Lloyd, Specialist
2008 — Josh Ramage, OL
2008 — LeSean Wilcox, DB
2006 — Zach Brady, DB
To view second team and honorable mention all-staters through the years, check out the Deseret News All-State Archives.
PG preview
Jacken Hunter talks about the coming season
Email: bgurney@desnews.com
Twitter: @BrandonCGurney