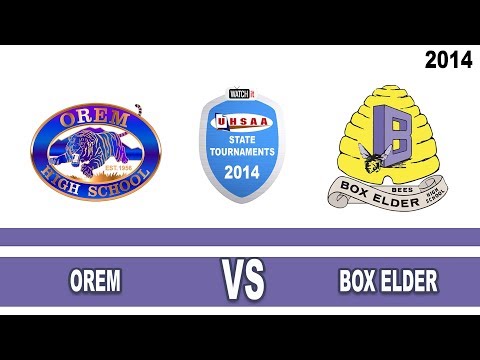 View 1 Item

He's just phenomenal with the ball in his hand, and he's so strong. There are very few point guards in high school who are willing to pass first, and Quinn's willing to always give it up.

—Orem coach Golden Holt on Quinn Peters
A year after suffering the shock of a first-round upset in the 4A state tournament, Orem's coaching staff devised a game plan Monday afternoon to avoid a similar fate.
It was all about the gold.
"At Orem we have a term, when I yell gold, it doesn't matter what play we're running, the ball's touching the paint. Tonight we did gold a lot," said Orem coach Golden Holt. "I didn't think they could stop us at the rim."
It wasn't even close.
Box Elder's scoring defense ranked 26th in 4A heading into the state tournament, and Orem took advantage, torching the Bees all game on its way to the convincing 75-56 first-round victory at the Huntsman Center.
Orem shot 58 percent from the field and outscored Box Elder a staggering 42-16 in the paint.
Dalton Nixon led the way for Orem with 26 points, with Quinn Peters adding 17 points and Richard Harward chipping in with 12.
"Last year's Logan loss in the first round really hurt us, so it's nice to come out and get that first one out of the way," said Nixon. "I think we were all a little bit antsy for this first game."
Orem did most of its damage in the second half. Leading 31-28 at the half, the Tigers made 10-of-13 shots in the third quarter and scored on every possession but two racing to the 55-42 lead.
Peters, Nixon and Ethan Chatterly all knocked down 3-pointers in the decisive quarter.
Box Elder's defense really struggled with stopping Peters' dribble penetration throughout the game.
"Quinn's been doing that all year. I don't think he gets the respect he deserves. I don't know of a better ball handler at attacking the rim in the state than Quinn," said Holt. "He's just phenomenal with the ball in his hand, and he's so strong. There are very few point guards in high school who are willing to pass first, and Quinn's willing to always give it up."
Peters, who ranks second in 4A with 6.5 assists per game, added six assists to go along with his 17 points.
Defensively, Orem did a terrific job slowing down Box Elder leading scorer Shad Watson — who went off for 40-plus points twice this year.
Comment on this story
Watson briefly got hot with back-to-back 3-pointers in the first quarter and then seven quick points early in the third, but he was a non-factor most of the rest of the game.
"Knowing Shad and the way he likes to play, he's a momentum player. So in a way I'm happy when he's taking all the shots 'cause it means all the other guys aren't. I don't think one guy can beat you," said Holt.
Watson finished with 18 points on 6-of-18 shooting to lead the Bees, with Darius McFarland adding 15.
With the victory, Orem advances to Wednesday's quarterfinals and will face Kearns at 7:30 p.m.