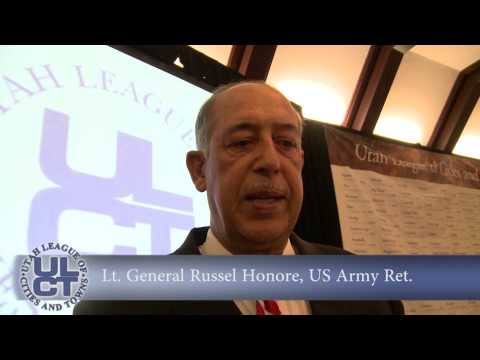 View 1 Item
Utah League of Cities and Towns

SALT LAKE CITY — Whether a hurricane or tornado, a landslide, flood or fire, Lt. General Russel Honoré, U.S. Army, Ret., says we will handle any crisis more efficiently if we plan ahead.
The general was called in to bring order back to New Orleans in 2005 after Katrina spelled disaster and tens of thousand of people were left homeless.
Now, in the wake of Superstorm Sandy, he is an analyst for network television and an adviser to leaders of cities and states coping with the devestation.
In September, Honoré visited Utah for the Annual Convention of the Utah League of Cities and Towns. His message to municipal leaders was clear: Every city, every family and every individual needs to have an emergency plan.
Honoré asked the mayors, managers and department heads, "How many of you have an evacuation plan? How many of you have an evacuation kit? How many of you have cash in your evacuation kit."
In a natural disaster power lines are often an early casualty. When we loose power, according to the general, its as though we are set back 80 years. We have no ATMs, no functional gas pumps and no way to pump water from municipal water systems.
Honoré advises city leaders, "Stop buying SUVs and buy a big generator for your water pumping station. The absence of clean water will paralyze your community."
The biggest threat of large-scale natural disaster in Utah runs up and down the Wasatch front on the fault line. For years, we've heard of the threat of "The Big One."
Honoré told city leaders, "You have to train families to be their own first responders." He explained it could take far longer for official emergency responders to arrive and offer assistance.
Comment on this story
Honoré advised providers of all vital services to have back-up generators in place. He also recommended that grocery stores be required to have generators. Cities, he said, should also have an agreement with grocery store owners that they stay open during natural disasters to offer food and water to those in need.
His overall message was clear: It's up to us to act now before disaster strikes. Cities, he said, must prepare to maintain life-saving services and families must get ready to survive.
Katrina recovery operation commander gives emergency preparedness advice to Utah city leaders
Katrina recovery operation commander Lt. Gen. Russel Honore gave emergency preparedness advice to Utah city leaders at a recent Utah League of Cities and Towns event.
ULCT is a non partisan, inter-local, government cooperative, working to strengthen the quality of municipal government and administration. The League serves as a voice for Utah's 245 cities and towns at the county, state and federal level.